I have been watching
THESE
classes over at
2peas
the last few weeks, and decided to give them a try. I absolutely LOVE
Jennifer McGuire's
style, and she does and amazing job of demonstrating new techniques in these classes.
The classes are free to anyone wanting to watch them, so check them out! They are posted at 2peas on Monday, Wednesday and Friday, and there are 9 weeks of classes, and this is week 4. They are about 5 to 10 minutes long and they focus on distressing and mostly
Ranger
/
Tim Holtz
and
Hero Arts
products, but not exclusivley. I splurged on some Tim Holtz inks a few weeks ago and decided to try the cards from the
first class video
. They were fun!! Totally 'out of my box', since distressing is something I only do a little of, but I really enjoyed it! I think I just might have to try each video and make it ;)
These 3 cards all have the same patterned paper, just different inks brushed on. The first is Frayed Burlap, then Peeled Paint, then Broken China.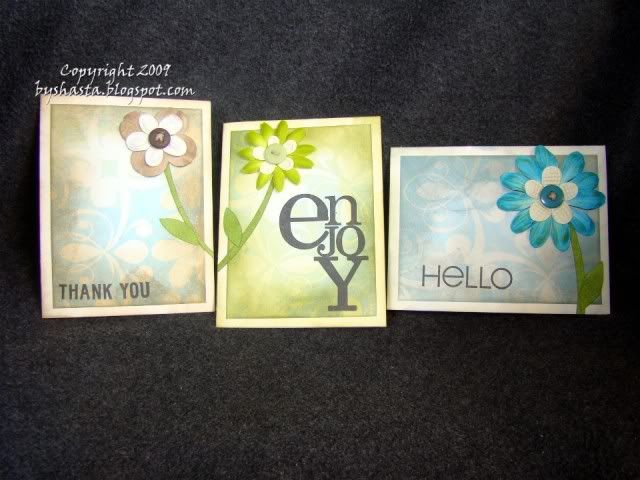 #1 is Dusty Concord mixed with Worn Lipstick
#2 Peeled Paint mixed with Spiced Marmalade
#3 Fired Brick mixed with Broken China
#4 Weathered Wood mixed with Peeled Paint
The background is stamped with Walnut Stain (script letters, and also stamped on the flowers), and I went over each of these with a brown ink to blend more, but can't remember which was which.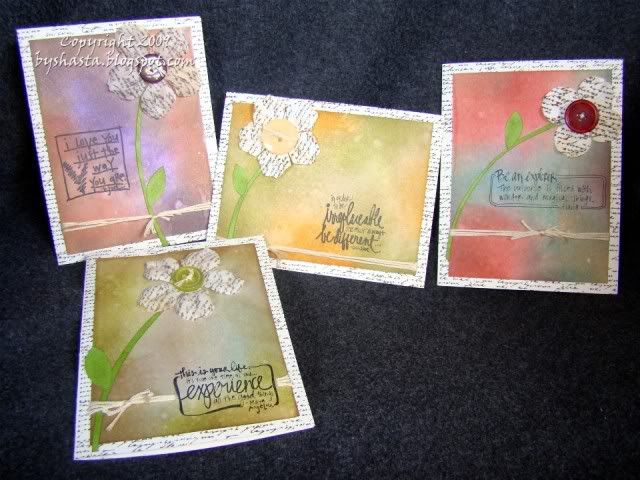 #1 Broken China and Dusty Concord
#2 Peeled Paint and Weathered Wood
#3 Tea Dye and Walnut Stain
#4 Fired Brick and Spiced Marmalade
This batch is my favorite, cool huh???