Can you believe it?? I did this one for the
Daily Inspirations blog
, and had to follow a recipe. I had to use the following...
1- 12x12 cardstock
1 - 9x6 pp1 -
11x2 pp
6 - buttons or brads
2 - types of ribbon/fiber/lace/ricrac
1 - tag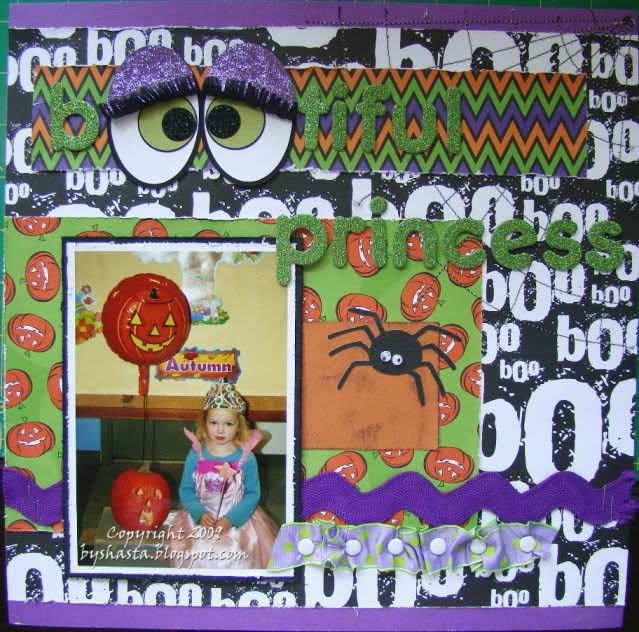 These eyes were inspired by the Muppets, we watched "Muppets in Space" the other day! Here's the run down on how to make them using the George cartridge and punches:
two ovals out of white cardstock, 2 3/4 inches for the eyeballs
two ovals, black cardstock, using the shadow function, to go behind the eyeballs
1 oval the same size for the purple eyelids, cut in half on a slant
2 black circles punched with a 1 1/8 inch punch, for the outer layer of the green iris
2 green circles punched with a 1 inch punch for the inner iris
2 black circles cut at 1/2 inch for the pupils
black scraps for the eyelashes, about 5 inches long and an inch wide. Cut strips about 3/4 of the way through the short side to make the lashes.
black and purple stickles
Layer the white ovals on top of the back ones. Adhere the lashes to the under side of the purple eyelids and put on the top half of the eyes. Layer the small black circles onto the green ones, and then onto to balc ones, and slide part way under the lashes and ahdere. Add the stickles and you're done! :)