We have 3 cherry trees in our front yard, and Adrian has been eyeing them everyday. Patiently waiting for them to turn red... And today they did!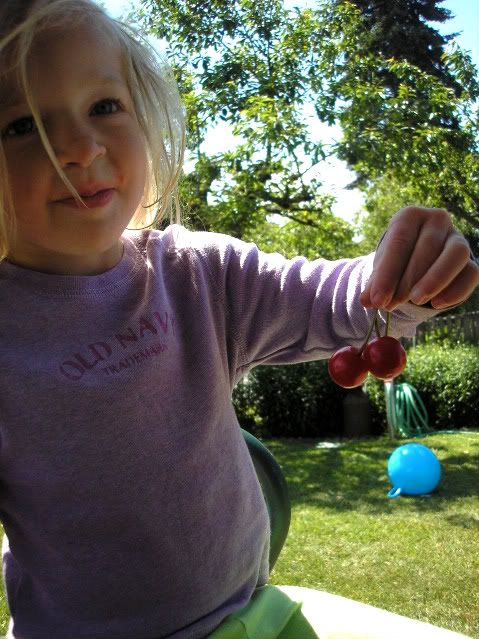 And we made some yummy cookies this morning...
Low-Fat Chocolate Cookies from Taste of Home Magazine


1/2 cup unsweetened applesauce
1/3 cup canola oil
3 egg whites
3/4 cup sugar
3/4 cup packed brown sugar
2 teaspoons vanilla extract
2-2/3 cups all-purpose flour
1/2 cup baking cocoa
1 teaspoon baking soda
1/2 teaspoon salt
1/4 cup miniature semisweet chocolate chips (I only had reg chips, and added them to the mix instead)
Directions: In a large bowl, combine the applesauce, oil and egg whites. Beat in sugars and vanilla. Combine the flour, cocoa, baking soda and salt; gradually add to applesauce mixture and mix well. Cover and refrigerate for 2 hours or until slightly firm. Drop dough by rounded teaspoonfuls 2 in. apart onto baking sheets coated with cooking spray. Sprinkle with chocolate chips. Bake at 350° for 8-10 minutes or until set. Remove to wire racks. Yield: about 3-1/2 dozen.