So I started wondering this morning what to make my dad for Father's Day that could be 'from' my kids... Yep, I started wondering this morning, when it's tomorrow! I wanted to use my
Tim Holtz
stuff since it is grungy and has a 'guy' feel to it, and I haven't played around with my
Distress embossing powders yet
. I was inspired by
this
, partly because I have some blank tags, partly because I have been watching
these classes
, and partly because I can finish it by tomorrow, LOL!
So started off with some blank tags, embossing ink and powders... I crumpled the tags up, swiped the embossing ink, dusted with the powder and then used my heat tool to set the podwer. I did one color at a time, and alternated colors randomly on both sides of 11 tags. So 22 times, which was the most time consuming part of this whole project, but it wasn't too bad ;)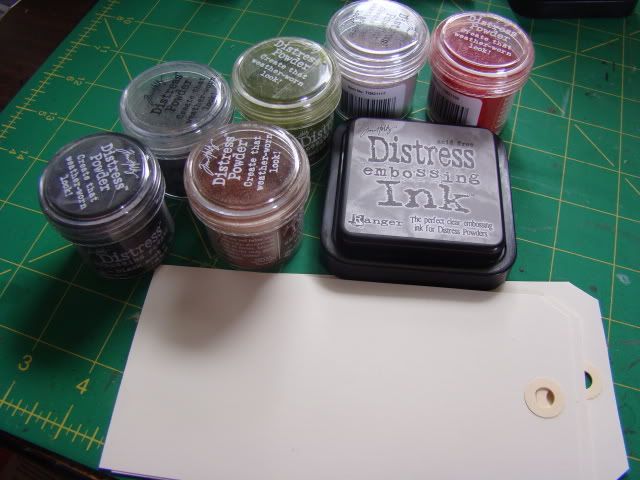 I sponged them all with a bit more ink to grunge them up some more. Then, I wanted to flatten the tags a bit, and decided to run them through my Cuttlebug with these embossing folders.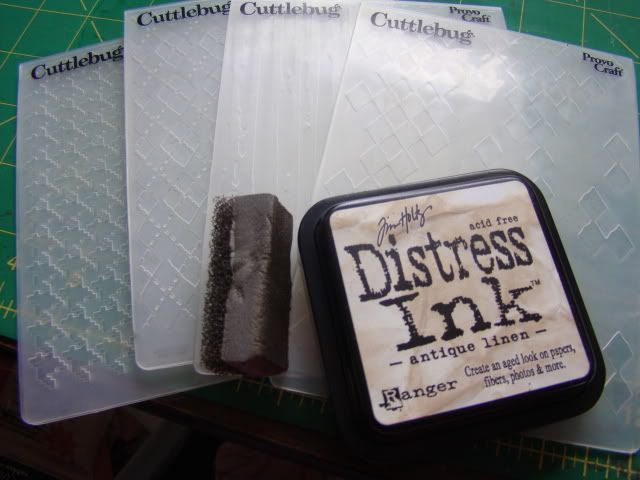 Here's the tags after doing all this...
Cool, huh?
So the whole idea behind this album was for my kids to write their favorite things about Grandpa, so I needed to make some journaling tags. I cut 2 sheets of 8.5x11 white cardstock into 16 pieces, each 2 3/4 by 4 1/4, which used up the 2 sheets perfectly! Then I sponged the edges with the same ink (because it's the only TH ink I have!!), and stamped their names on 8 pieces each, with clear stamps and some brown Staz-On ink...
Wel, since it is almost lunch time, this was as far as I got right now. But I am stopping by M's on my way home because I NEED more Tim Holtz Distress inks, since I only have this
one color
AND they are 40% off this week... So the next step is to have my kiddos writet on these tags, and then I am going to decorate this
Grungeboard
and put it all together tonight.
I am going to ink it up with my new inks (after I go buy them of course!) and then put a ring through the tags and there ya' have it.
I will post part 2 when I am all done later...