Do you get emails from Creating Keepsakes Magazine?? If you do, then you'll know what these are. If not, here's a peek....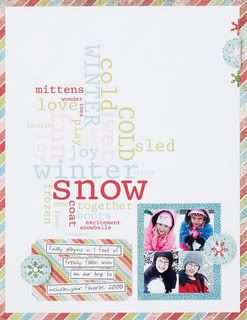 This page was made using the website
http://www.wordles.net/
and the words are called a word cloud. They are super easy to make on this website and print out directly or to save and use on a later project. You can even use them for digital scrapping. There are lots of possibilities, you could make a neat card with these too!
1. Go to
http://www.wordle.net/
to create your word cloud and follow the prompts.
2. When finished, click PRINT.
3. When your print menu appears, go to the drop-down menu to select the printer you want to use. Select Adobe PDF, then click PRINT.
4. When your PDF document appears, click on EXPORT at the top of your toolbar, then select JPEG and save.
5. Open your image-editing software and use your Wordle word cloud as desired.
Here's one I made and just clicked 'randomize' until I liked the way it looked!