I decided to make soup today, my house smells so good! I used this recipe from
Rachael Ray
...
Red Beans and Rice Stoup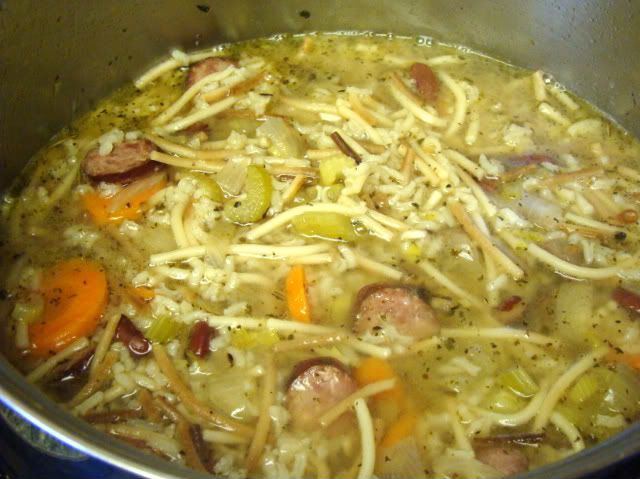 I made a few susbtitutions though so I didn't have to go to the store!
Ingredients
2 tablespoons EVOO – Extra Virgin Olive Oil
3/4 pound andouille sausage, sliced on the bias (substituted smoked sausage)
1/2 cup orzo (subistituted broken spaghetti)
1 medium onion, chopped
2 cloves garlic, finely chopped or grated (used 4)
2 to 3 ribs celery, finely chopped
1 red bell pepper, chopped (substituted a carrot)
1 bay leaf
Salt and ground black pepper
2 tablespoons hot sauce
1 tablespoons Worcestershire sauce
4 to 5 sprigs thyme
1 14-ounce can red kidney beans
1 cup long grain white rice, such as basmati
1 quart chicken stock (I doubled this to 2 Qts, I like it a little more broth-y!)
3 to 4 scallions, thinly sliced
Place a medium saucepan over medium-high heat with 2 turns of the pan of EVOO, about 2 tablespoons. Add the andouille to the pan and cook until golden brown, 5-6 minutes. Remove the sausage from the pan and reserve on a plate.
Add the orzo to the pan the sausage was cooked in and toast until golden brown, 2-3 minutes. Add the onion, garlic, celery, pepper and bay leaf to the pan, and cook until the veggies are tender, about 5 minutes. Season everything with salt and pepper and add the hot sauce, Worcestershire, thyme sprigs, beans, rice and reserved sausage to the pot. Stir in the stock plus 2 cups water and bring up to a bubble. Reduce the heat to medium and simmer until the rice and pasta are cooked through, 16-18 minutes.
Just before serving, remove and discard the bay leaf and thyme sprigs and season as needed with salt and pepper. Serve garnished with scallions.