I made another on on Sunday, it was the best one so far, SOUP-ER yummy, haha!
It is
Rachael Ray's Cossoulet Stoup
1 tablespoon extra virgin olive oil (EVOO)
4 slices thick-cut bacon, chopped
1 pound chicken, pork or lamb sausage, casings removed
1 onion, chopped
2 leeks, cleaned and thinly sliced (didn't have any of these, used Endive instead)
1 carrot, peeled and chopped
3-4 cloves garlic, finely chopped or grated
6 sprigs fresh thyme, leaves removed (used dried)
1 bay leaf
Salt and ground black pepper
2 tablespoons tomato paste
1/2 cup white wine
1 can white beans (15 ounces), drained
4 cups chicken stock (used 8 cups)
4 tablespoons butter
5-6 slices stale crusty bread, like a baguette
1/4 cup flat leaf parsley, chopped
Preparation
Place a heavy-bottomed soup pot over medium-high heat with 1 turn of the pan of EVOO, about 1 tablespoon.
Add the bacon to the pan and cook until golden brown and crispy, 4-5 minutes.
Remove the bacon from the pan with a slotted spoon and reserve on a paper towel-lined plate. Brown the sausage in the same pan, breaking it up with a potato masher or back of a spoon as it cooks, 5-6 minutes.
Add the onion, leeks, carrot, garlic, thyme and bay leaf to the pan, season with salt and pepper, and cook until the veggies are tender, 5-6 minutes.
Add the tomato paste to the pan and cook until golden brown and aromatic, about 1 minute.
Add the white wine and cook, scraping up any bits that are stuck to the bottom of the pot, until reduced by half.
Add the white beans and stock to the pan, and bring up to a bubble.
Simmer the soup until slightly thickened, about 5 minutes.
While the soup is simmering, place a medium skillet over medium-high heat with the butter. While the butter is melting, grind up the bread into coarse breadcrumbs in a food processor. Transfer the crumbs to the pan and toast them in the melted butter until golden brown, 3-4 minutes. Stir in the parsley and reserve.
Serve the soup with some of the breadcrumbs and a sprinkle of the reserved crispy bacon on the top.
Cooking the veggies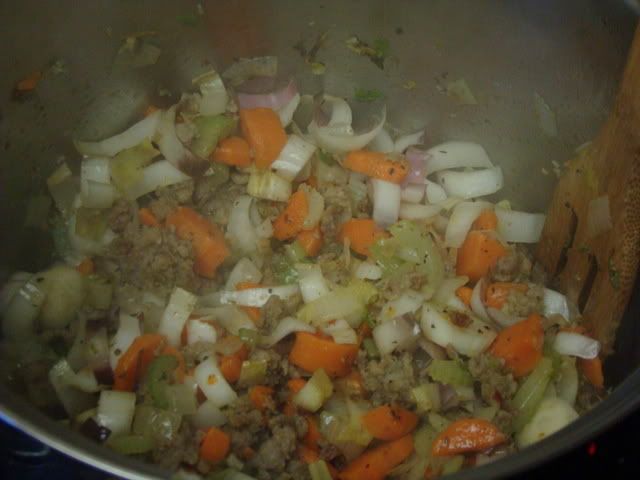 Soup's on!