I went grocery shopping today, and I am worn out! We are trying to tighten up our belts just like the rest of the world these days, and one way we decided to do it was to take a long hard look at our grocery budget. I think I stop at the grocery store pretty much daily and I know that is where we spend a ton of money we don't need to.
So last payday, on Jan 10th, we made the decision to shop monthly, and just supplement with the incidentals when we need to. We spent the last 2 weeks going through our fridge, freezer and pantry and using up old stuff and making a long list of what we really needed. I waited until today to go shopping, and boy did I shop! I budgeted $400 and got everything on our list. It was kind of fun actually!! I wasn't too worried about spending a ton, because I already knew I was going to and it was budgeted, so a little less painful LOL. $417 and 5 stores later....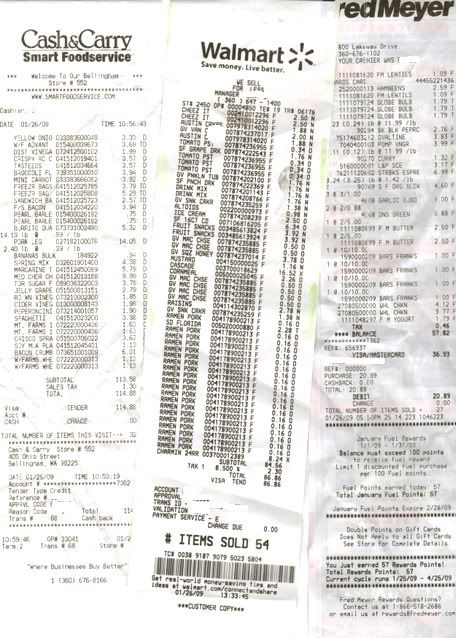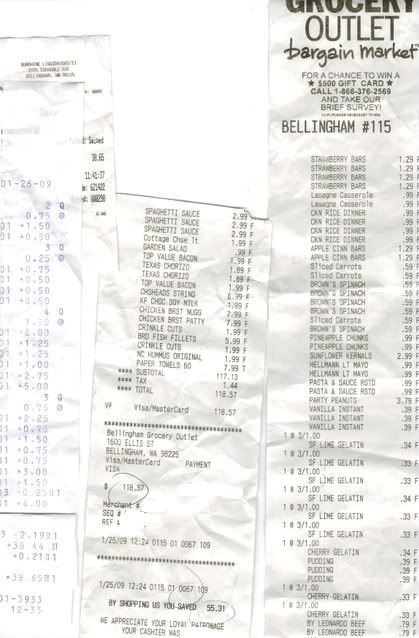 Here is what I spent...
at Wal*Mart $86.86
at Cash & Carry (local restaurant supply store) $114.88
at Bellingham Grocery Outlet (discount grocery store) $118.57
at Sunshine Liquidators (discount grocery store) $38.65
and at Fred Meyers for everything else LOL $57.82
And just what did I buy?? I am curious myself, to see it all laid out and see what my family of four uses in a month! I didn't have to buy much meat though, my local grocery store did have a pretty good sale on hamburger ($1.29 a lb!!) so I bought 15 lbs last week, and I had a bunch of kielbasa sausage, ground pork and pork chops in the freezer already.
Gotta go eat dinner, I will finish this post in a bit!
**********************************
Ok, here goes...
2 lg boxes of Cheezits
2 packages of cheese cracker sanwiches
vanilla cookies
4 cans of tomato paste
5 pks of juice mix
tin of altoids
1/2 gallon ice cream
toilet paper 24 rolls
paper towels 8 rolls
6 boxes of mac and cheese
2 lg boxes fruit snacks
lg honey bear
80 pack dishwasher tablets
bag of cornmeal
tub of raisins
16 pck ramen noodles
6 boxes of cereal bars
2 bags noodles
4 boxes of chicken rice mix
5 boxes frozen spinach
4 cans sliced carrots
2 cans crushed pineapple
bag of sunflower seeds
2 jars mayo
4 pakages pasta and sauce mix
3 boxes vanilla pudding
6 boxes lime jello
3 boxes cherry jello
2 boxes beef rice mix
laundry liquid 12o loads
lg tub sour cream
5 lb bag onions
1 gallon plain vineagar
lg bag rice cereal
lg bag Cheerios
2 lb bag of broccoli florets
2 lb bag of mini carrots
gallon ziploc freezer bags 90 ct
quart freezer bags 120 ct
sandwich bags 200 ct
bacon ends and pices, 3 lb
2 bags barley
flour tortillas 40 ct
14 lb boneless pork leg (this was $.99 a pound!!)
bananas
salad mix
3 lb tub margarine
5lb block cheddar cheese
grape jelly
soy butter
ride wine vineagar
apple cider vineagar
jar of pepperocinis
lg bag spaghetti noodles
4 loaves of bread
cooking spray
4 cartons soy milk
bacon crumbles
paper napkins 500 ct
3 large jars spaghetti sauce
cottage cheese
spinach salad mix
2 packages bacon slices
2 packages chorizo sausage
36 pack cheese sticks
3 lb bag chicken nuggets
3 lb bag breaded chicken patties
3 lb bag fish fillets
hummus
2 bags crinkle fries
15 bean soup mix
2 bags lentils
3 light bulbs
bulk peppercorns
Ovaltine choc drink mix
balsamic vineagar
bulk curry powder
espresso beans
bulk dried black beans
3 heads garlic
worchestershire sauce
2 bundles green onions
2 packages butter
4 packages hotdogs
2 whole chickens
plain yogurt
6 boxes granola bars
3 bottles of salad dressing
lg can chicken soup base
2 boxes rice and bean mix
3 boxes vegetable dip mix
2 boxes ranch dip mix
2 bottles mustard
lg can of peanuts
bag of pretzels
phew!!
What does your family eat compared to mine?? I am curious ;)