I decided to start my Christmas crafts a bit earlier than I did last year. I started in August and was in such a rush, and since it was my first season doing Craft Fairs, I made a bit of everything. This year I am going to focus on a few less items, so here's my first ones.
I posted some
wrinkle ribbon
I made the other day and here is the first project I used it on. I got
this
stamp set at Joann's recently and wanted to make some treat tags for those homemade goodies people love to give! I went with a more distressed, vintage feel since the ribbon is kind of like that. I grouped a few of the stamps on the block together and stamped all the tags at once to make a random background. The back of the tag has the "to:" and "from:" stamped as well. These are just plain manila shipping tags from the office supply store, and are about 3 or 4 inches long. I rubbed some Brushed Corduroy Distress Ink on the tags and the sentiments in the circles, which are also stamped with that Fiskars set. Then I popped them up with foam dots and tied the ribbon and some twine on the tag, and all done ;)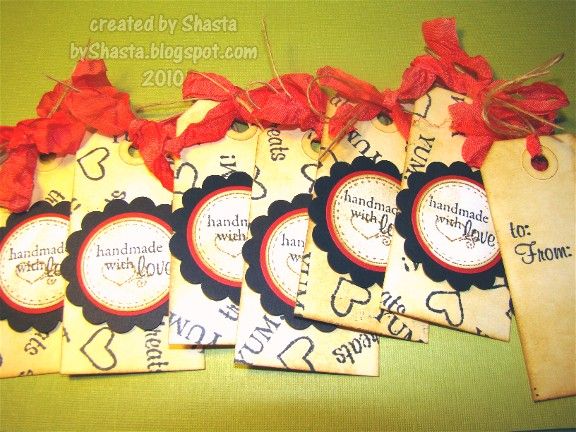 These tags are die cut and stamped using the PTI Friendship Jar stamps, and I love these. I inked them up with some Antique Linen Distress Ink and colored them with Copics. An eyelet and some twine finish them of nicely ;)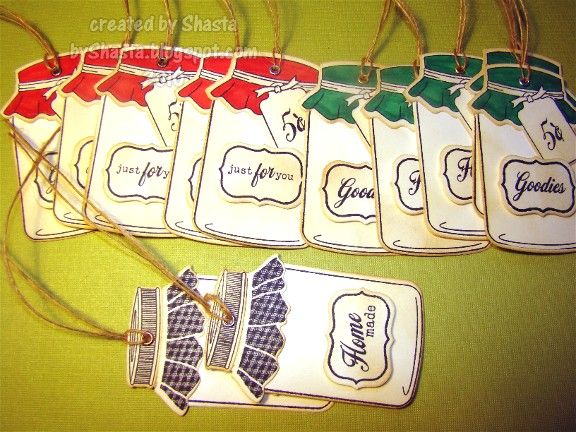 Next up are some money/check holders, and giftcard holders. I saw this one
here
and decided to make a few like it. I winged it on the dimensions, and just got out a dollar bill and made it to fit. I think it is 9 1/2" by 3", and folded into thirds, and then scored at 3" and 6". The front flap I cut about a 1/4" off and then used the edge punch. The inside of the front flap has a piece of white cardstock matted on a piece of green cardstock. The green piece is big enough that the bottom edge just peeks out from underneath when the card is closed. I adhered the ribbon first on the inside, and then put the matted pieces on top.
The sentiment on the front is cut with a Nestie (Labels 1) and the border is stamped with a
PTI
set called Vintage Labels that fits perfectly. The papers are from an Imaginisce pad, and the Sweet Stack by DCWV.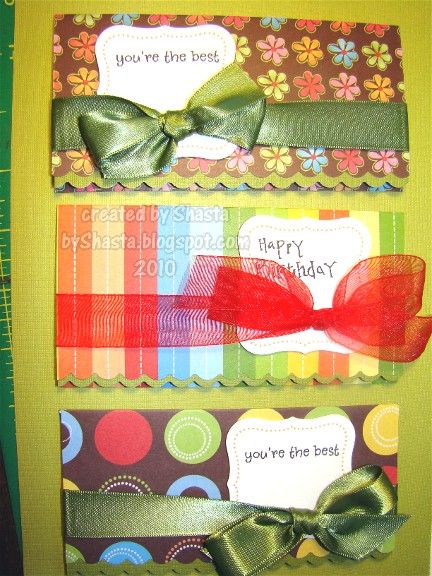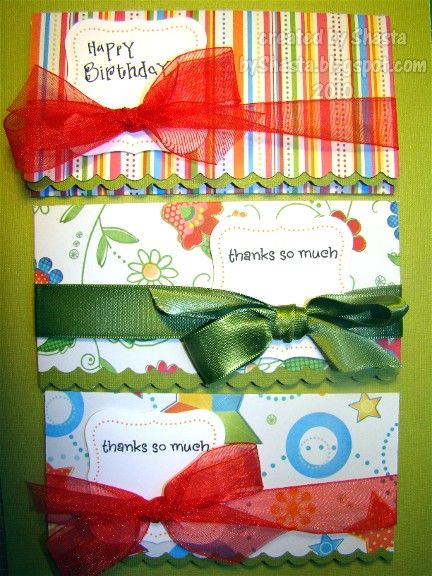 These ones I did a bit different. I wanted to embellish them with the same papers that they were made out of, and I had pile of scraps left to use up.
This first one, I punched a strip of the same paper to make the card with an edger punch, and made a flower out of it! The rest I used whatever embellies I had close at hand to dress them up a bit. Some were made with paper some with other flowers I had already assembled. The tags are stamped with the same Fiskars set as the treat tags above.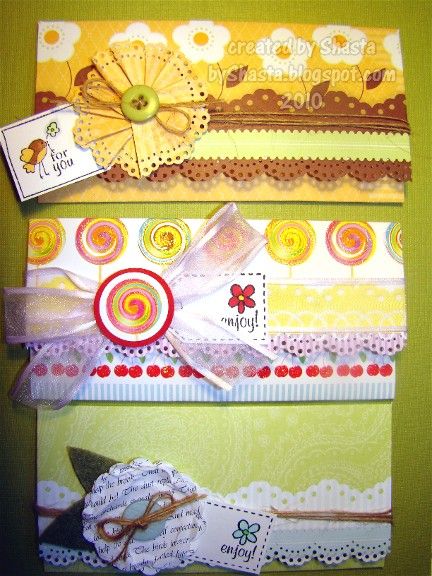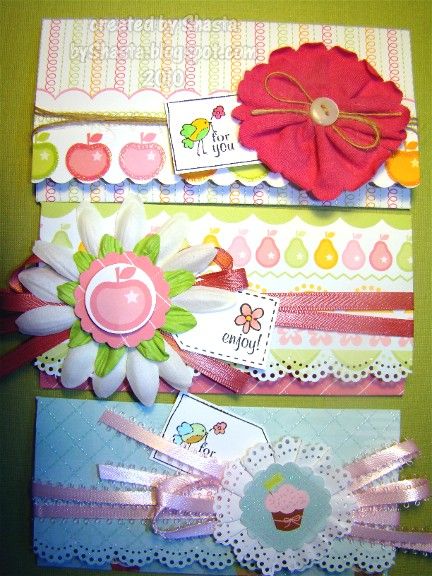 These are smaller holders for a standard plastic gift card. Again, I just winged it and measured a giftcard I had to make them. I believe they are 4 1/2" wide by 3" tall.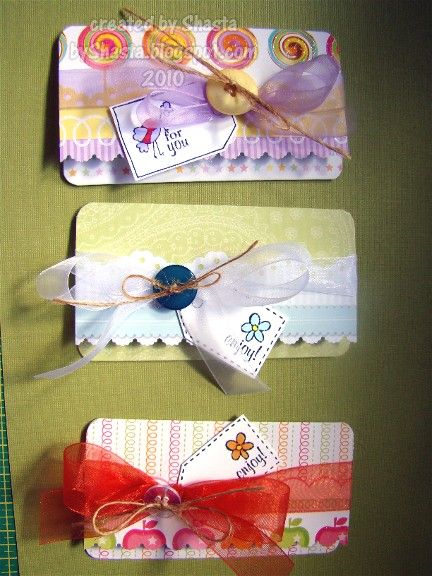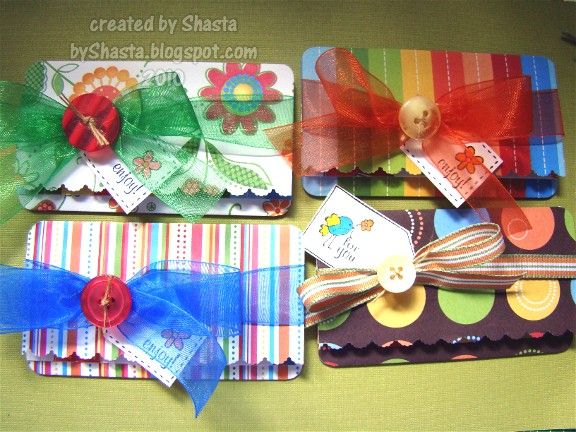 This pic shows the inside, which is the same as the insides of the larger money/check holders. I used a large oval punch to cut a portion of the lower flap out and make it easier to see the card, and also get your fingers in there to get it out.