I started a swap on a scrappy board for the first time in ages! I am so into flowers that it just sounded like a good idea to have that be the theme. I signed up for 3 groups, Boy, Girl and Neautral. These are the ones I made for the girl group.
I made these out of a pink t-shirt material, so they are super soft cotton. I cut them using
Papertrey Ink's scallop border dies
. I ran all three sizes through my Cuttlebug at once, so they have varying sizes of scallops on the edges.
Some of them didn't cut very cleanly, but I think that just adds a little fun to them ;) After that, I gave them a little stretch, so they curled up a bit.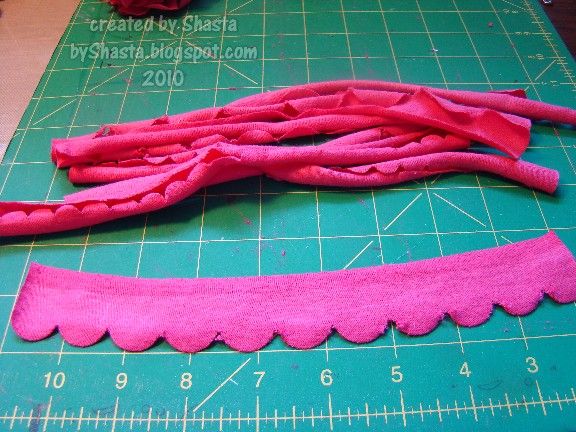 Then I got some matching thread and gathered the straight edge like this...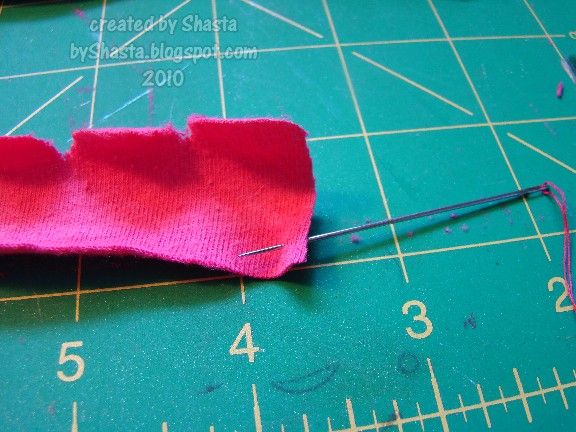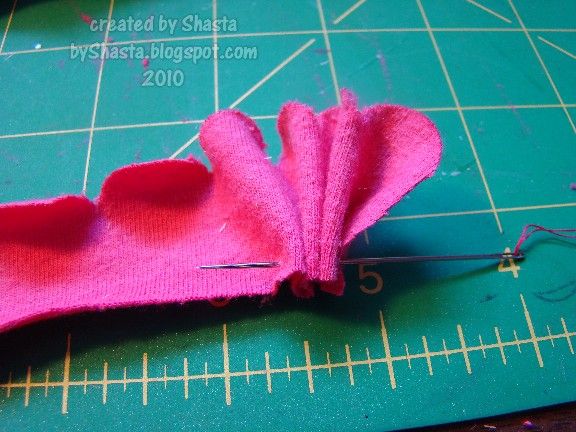 Once all the fabric is gathered, then I pulled the thread through, but not too tightly, and secured the end with a knot.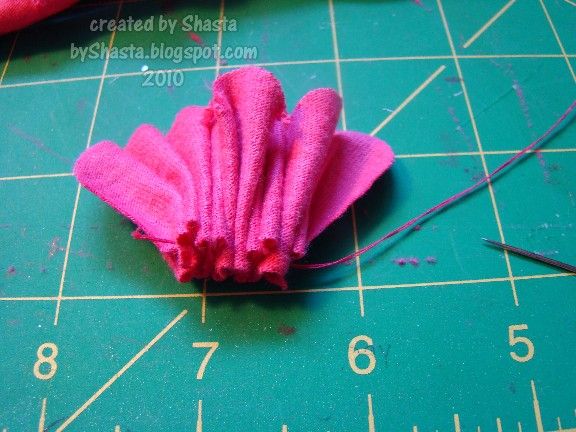 The reason you don't want to pull it too tight is because the next step is to bring the edges together to form the flower. Secure the edges that meet with another knot.
Then I took the raw edges and stitched them together once or twice. This way they won't come apart and the flower will not separate.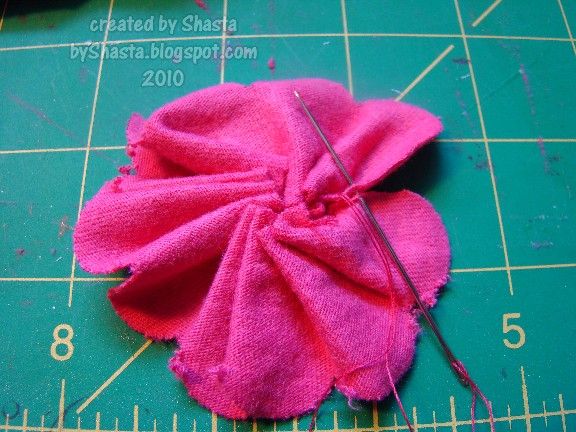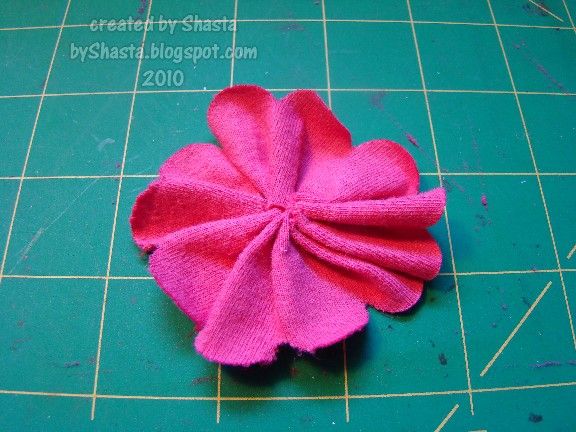 For the centers I chose to use white buttons and some twine (more on the twine at the end!). I tied the twine in a bow on the back of each button after threading it through the front.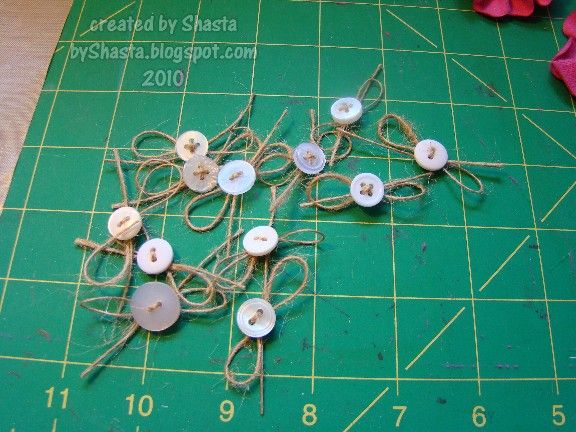 Hot glue has long been a staple in my crafting, but I haven't used it in a while! Just a little dab in the middle for the buttons...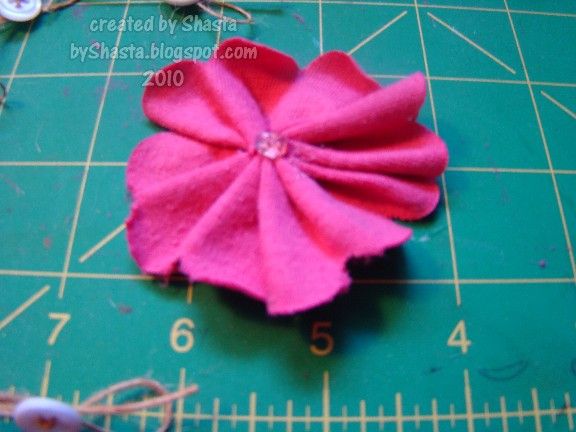 And all done ;)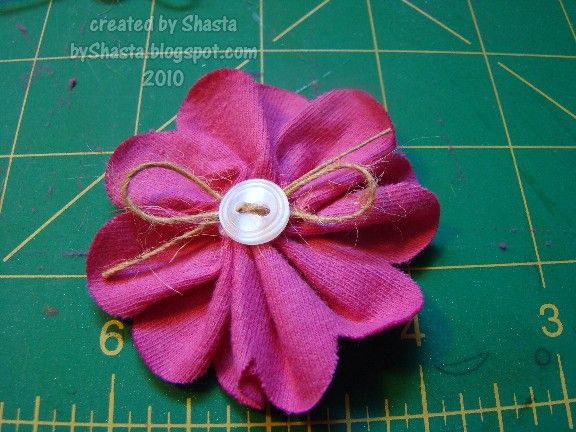 I made 12 of these babies in a bout an hour, not too shabby!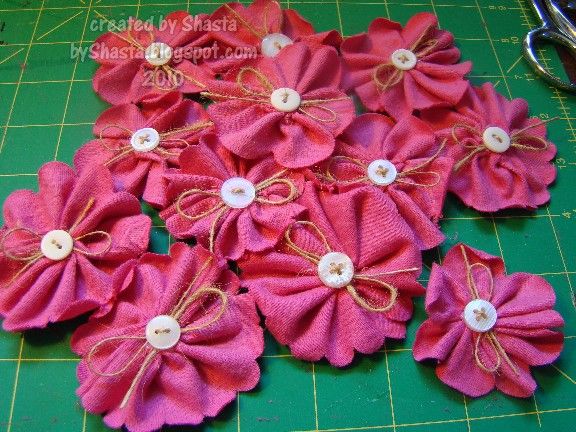 Now abou that fiber...
I found this seller on Etsy,
Wind Rose Fiber Studio
, and got a fabby deal on this twine, which is a favorite of mine. Can't you tell? :) And since I got such a great deal, I don't have to worry about being stingy with it! I got this huge ball of twine, all
225 YARDS
of it, for $1.20 plus a few dollars for shipping. See that spool on the left? That was for the 20 yards of twine I ordered from
Papertrey Ink
for $5 plus shipping. Now, I
love
me some PTI, but I just go through this twine so fast! I thought 20 yards would last forever, and it just didn't. If I had to snip off a 1/2" and toss it in the trash, it made me sad, so no more worries about running out for a while ;)