I posted my pink flowers the other day, and here are my Boy and Neutral flowers for the swap I am hosting.
For the Neutral ones, I found some random text and put it in a pretty font in Works, and printed it on plain copy paper. I adjusted the margins a bit so it would print as close to the edges as I could make it, and then justified the edes to make them even on the right and left sides. I used a 2" scallop punch and needed 5 layers per flower. After all the punching was done, I crumpled them all up with my hands and then stacked the scallops in groups of 5. I wanted them to have leaves too, so I made them out of felt. I just hand-cut some leaf shapes with a slightly long end. I cut a bunch of rectangles, about 1" by 3", and cut the leaf shape on one end. The other end was just left square, since it would be under the flower and out of sight. I stacked the scallops on top of the leaves, and stapled them together, easy peasy :) The final step was to ink them up a bit with some Tim Holtz Antique Linen Distress Ink.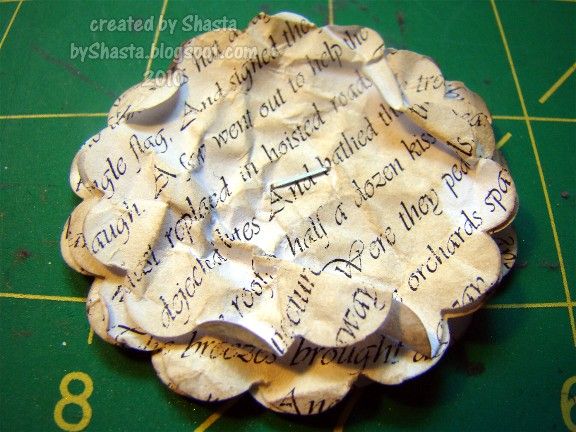 Then just add buttons and twine! I had to make about 10 of these for this swap, but I had some extras. These ones are for me, so I made them pink :)
The neutral ones I made with brown buttons.
For my Boy group I decided to make crocheted flowers. I tried out a bunch of different patterns before I found the on I liked best.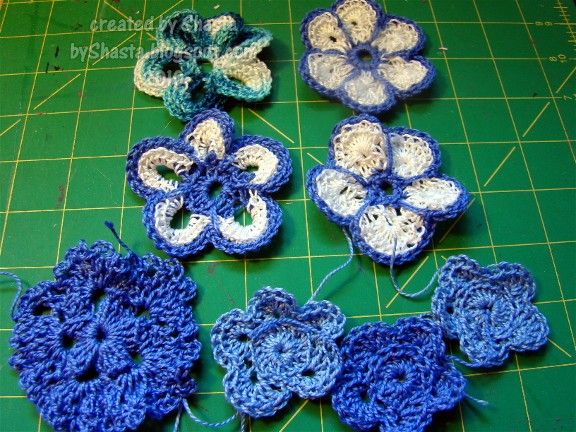 These two were pretty, but a bit large for what I needed, so in a drawer they will go for a future project!
Here is the pattern for the flower on the
left
, and the patter for the one on the
right
.
This one I can't remember where the patten came from, but it was huge and took awhile. The other 3 were too tiny, and so they didn't quite make the cut either.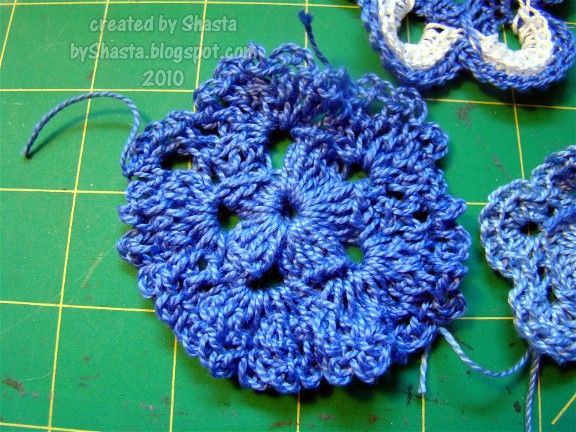 I found these and they were super quick to make and easy. The pattern is
here
. Somehow I made one with 6 petals, not sure how that happened ;)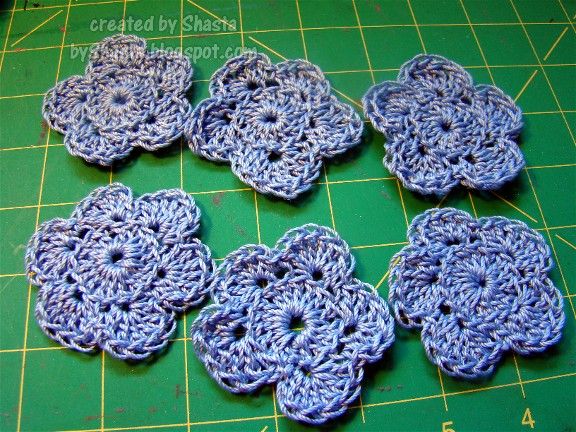 I decided that they needed a bit sprucing up, even if they are in the 'boy' group. So again I decided to use twine, but I paired it with rhinestones instead of buttons. I got a bag of these at Michael's, I think they are 10mm in size.
I added a dab of hot glue and then the twine, then the rhinestone. I did this all on a Ranger Craft Sheet, since they are heat resistant and non-stick...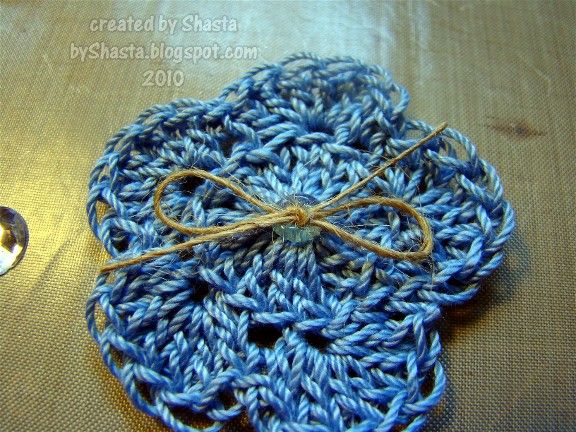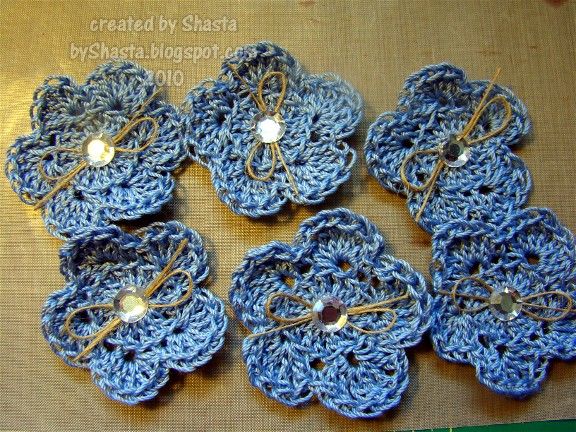 But also because after the flowers cool and I removed then from the mat, the glue would be nice and flat on the back.