I decided to make some more bookmarks, and these came together pretty easily once I decided on the embellishment!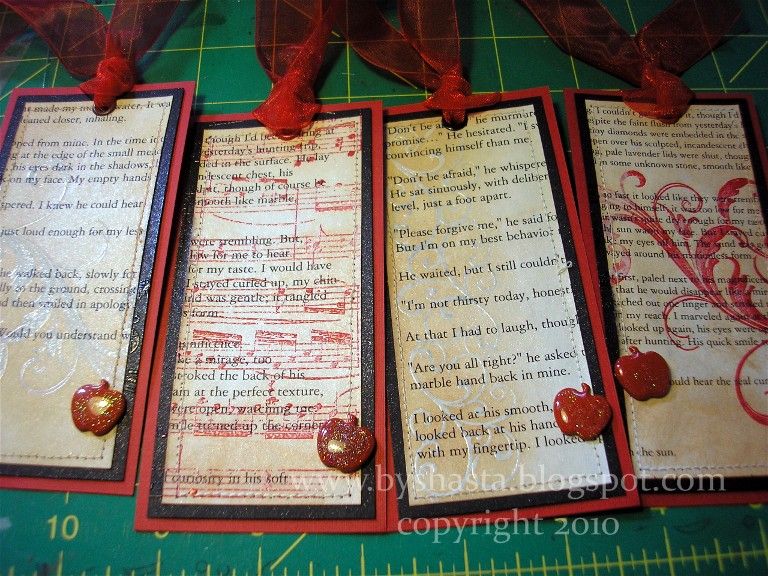 I knew I wanted to put an apple on them, but couldn't decide if I wanted a charm, and brad, or something else. First I tried stamping a bunch of apples and colored them in with inks, then covered them with Crystal Lacquer for shine. But when they dried (and I waited overnight!), they were a bit lumpy and the red just wasn't the right color. Then I decided to see if I could find the EK Success apple punch after seeing it used on some cards, but after THREE trips to three different stores I still couldn't find it. I was wandering around Michael's trying to find something else that would work, but I didn't want to spend too much since I needed 24 of them.
I came across this pack of 24 brads (perfect!), but half of them were green. But they were 40% off so I bought them anyways, thinking I could come up with
something
to do with them! I started by painting them all red, even the red ones, so they would all match. I just used some plain acrylic craft paint. Then when that was dry, I used a bit if some Making Memories clear glitter glaze over the top. I still needed them to be shiny, but was too impatient to wait for more Crystal Lacquer to dry... So I decided to use some good old UTEE, Ultra Thick Embossing Enamel!
The apples needed 4 coats of UTEE, and after doing 4 or 5 apples, my fingers were getting a bit tired of holding them with tweezers, so hubs came to the rescue with a pair of vice-grips, and after that it was a piece of cake! They clamped on the brad prongs with no tension, much easier ;) It was a bit time consuming to do 24 of these puppies, but they turned out so
pretty
!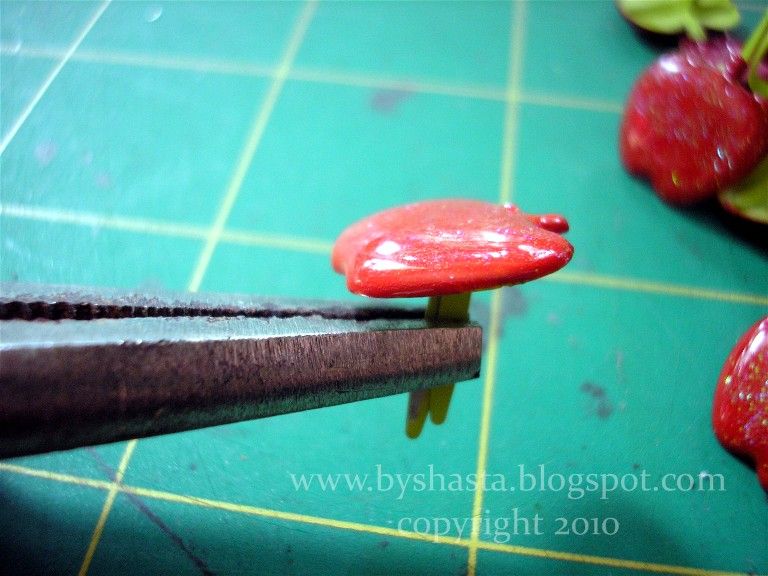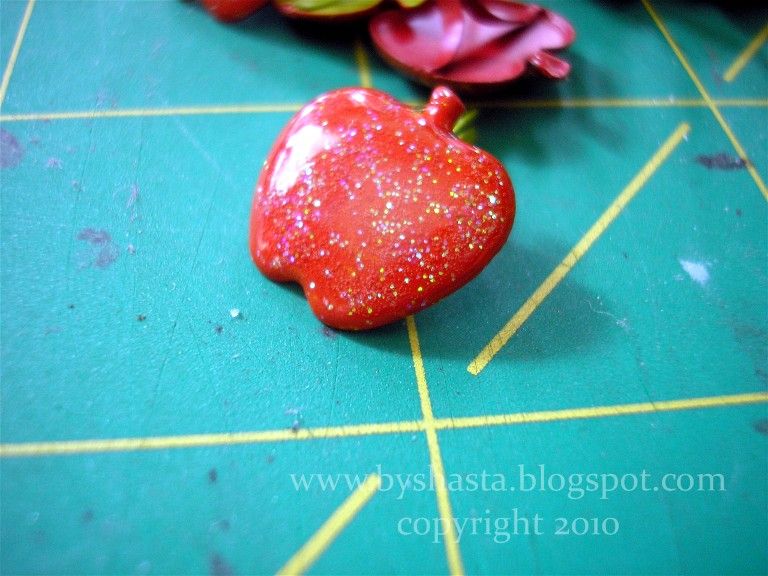 Then I just cut off the prongs, and adhered them to the bookmarks with a foam dimensional, easy peasy :)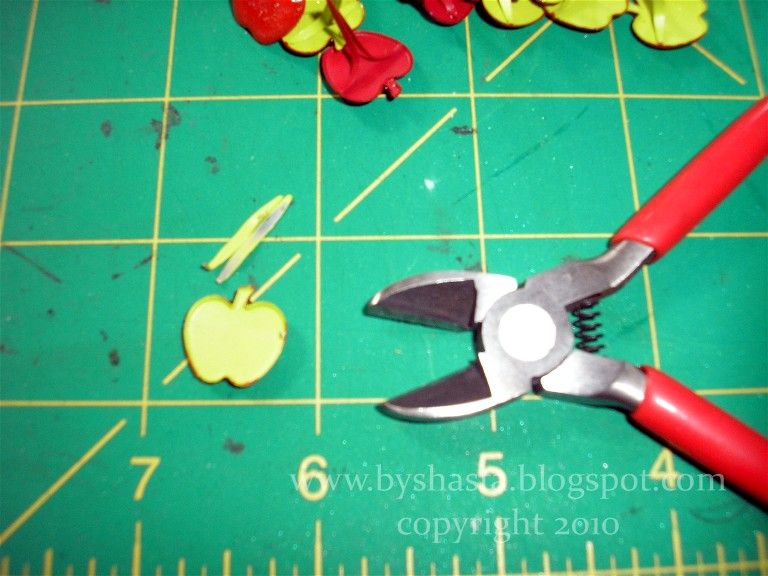 Now let me tell you a bit about the bookmarks themselves. I love this technique, is is such a dramatic effect for so little work! I started with printed paper, approximately 2" x 5", and matted it with black cardstock. I went around the edges with my sewing machine, and then matted them again on red cardstock. I did this so the stitching wouldn't show on the back ;) I punched holes, and then added eyelets. Once they were all assembled, I stamped various background stamps on them with Versamark Watermark Ink. I used a few different flourishes, and a music score background.
After that, I heat embossed them with clear embossing powder, then went over that with some Tim Holtz Distress inks in Antique Linen and Tea Dye. LOVE the inking tools and foam applicators, I use them so much!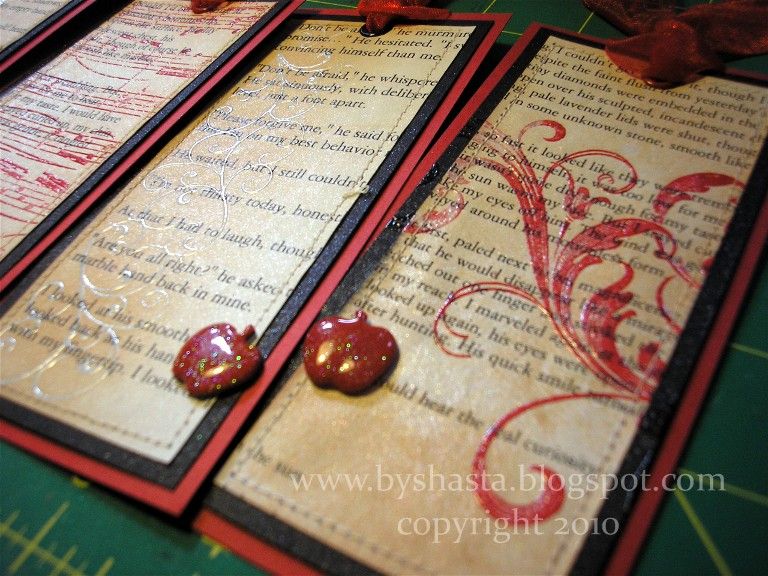 The final step was to add some more sparkle ;) I sprayed the whole thing with a mixture of Perfect Pearls powder and water, and dried it with the heat tool. The ribbon went on last, and all done!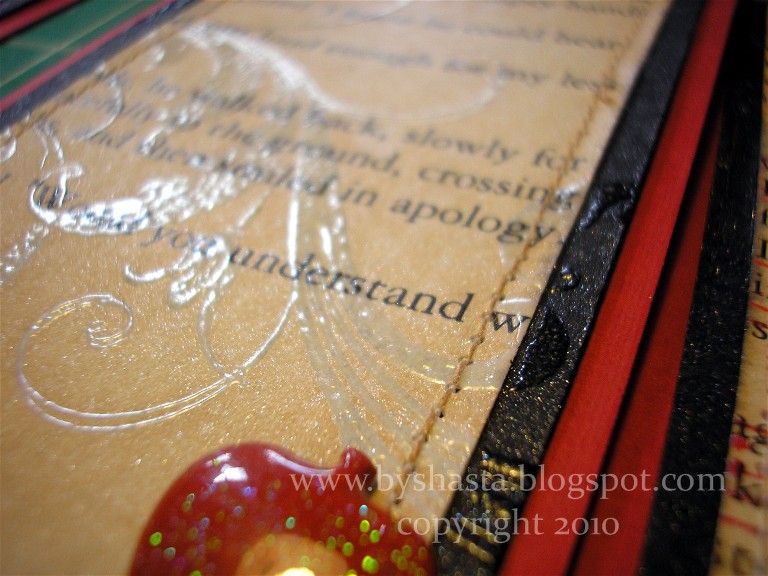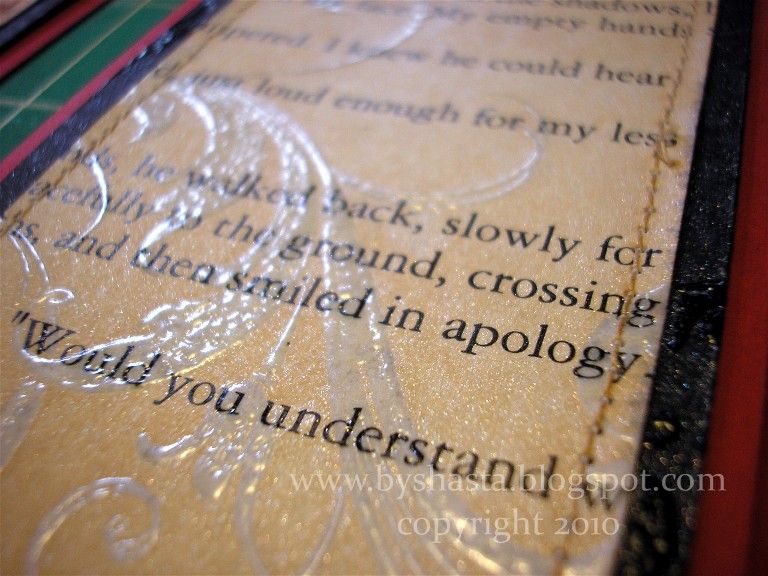 Guessed the theme yet??