And it was so much fun! I finished uploading all my pics last night to post, yay!
As always, our host, LORI, created a FAB getaway weekend for a group of awesome ladies! She also participated in the 3day walk on another team, and since October is Breast Cancer Awareness month, that was the theme. Here are some pics!
My car was packed so full!!! This was even AFTER my hubby took out the 3rd row seat! Dyona had to ride with a Costco cake on her lap the whole way!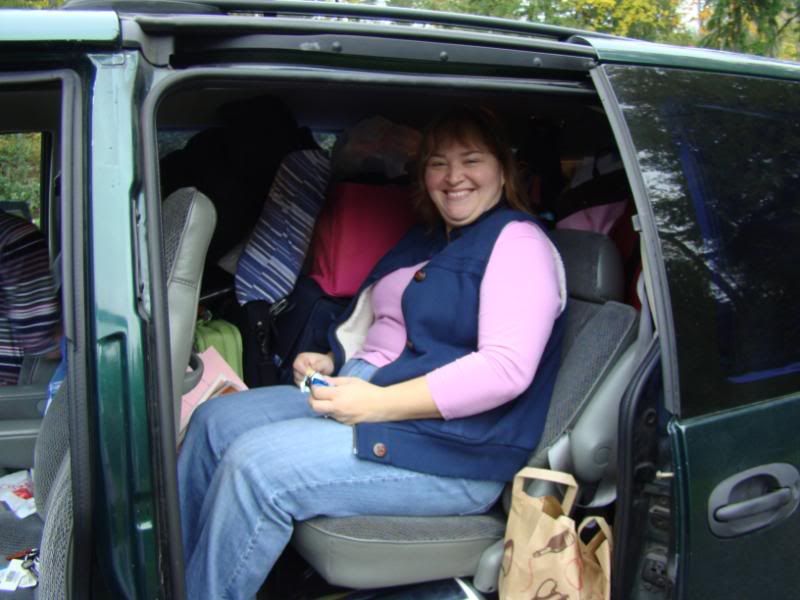 Getting set up the first day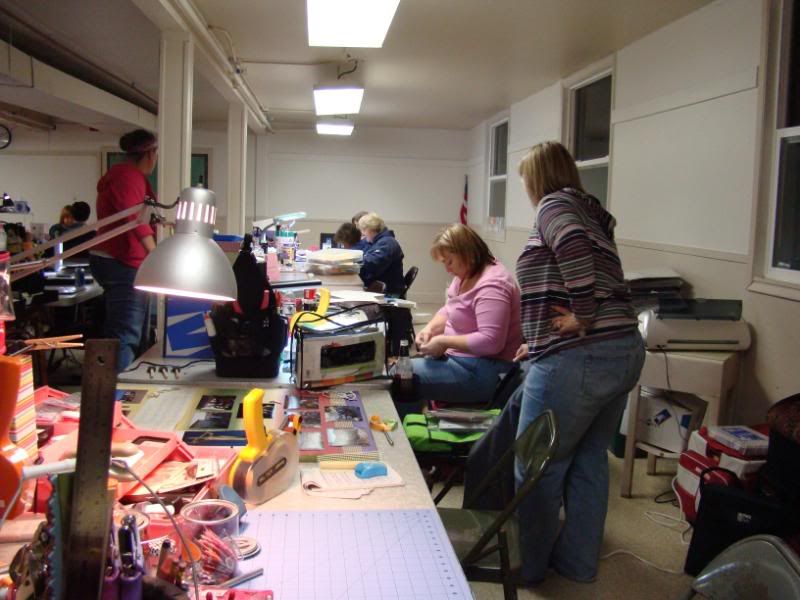 My crop spot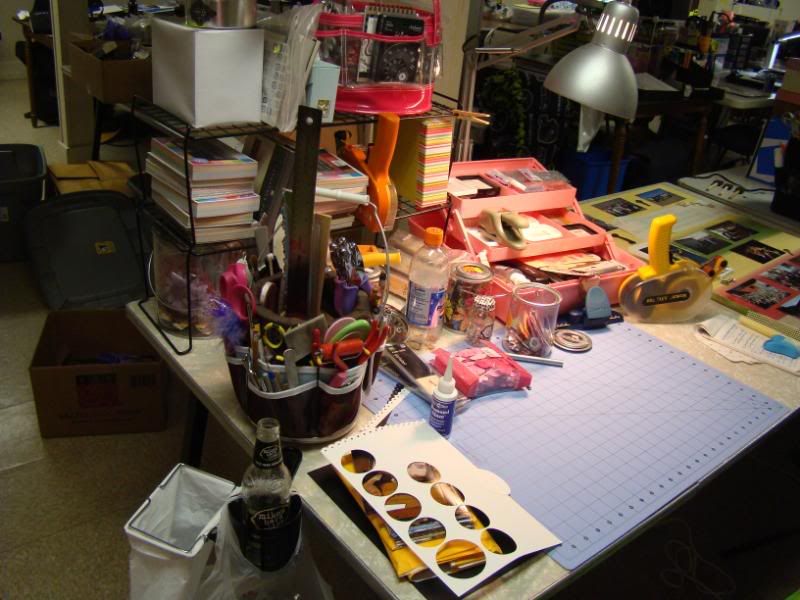 My friend Kim (the one in the black shirt) had gone upstairs to take a nap and had missed some dancing, so we decided to wait until she walked in the room to do it again. We kept checking the hallway to see whn she was coming LOL! When it was time, our 'DJ' hit the CD player and "Ice Ice Baby" came on and we all stood up to dance, and Kim was like, HUH?? It was hilarious!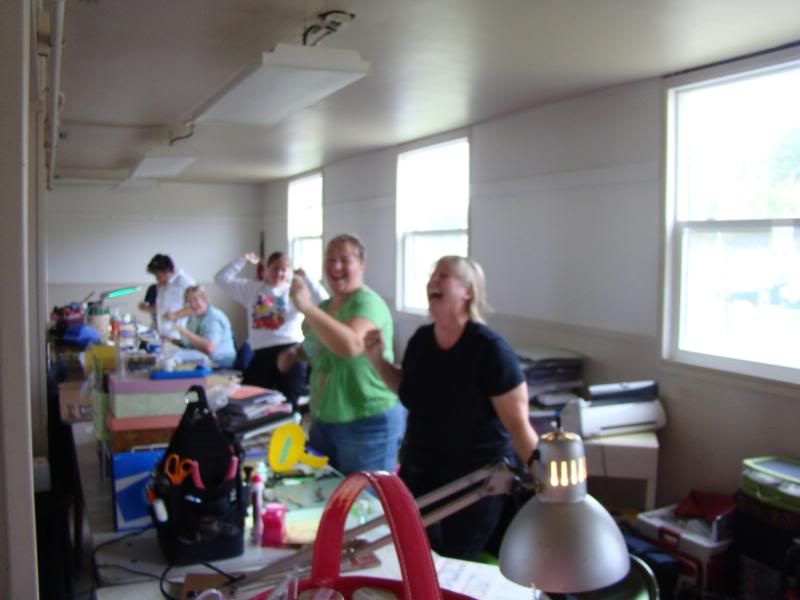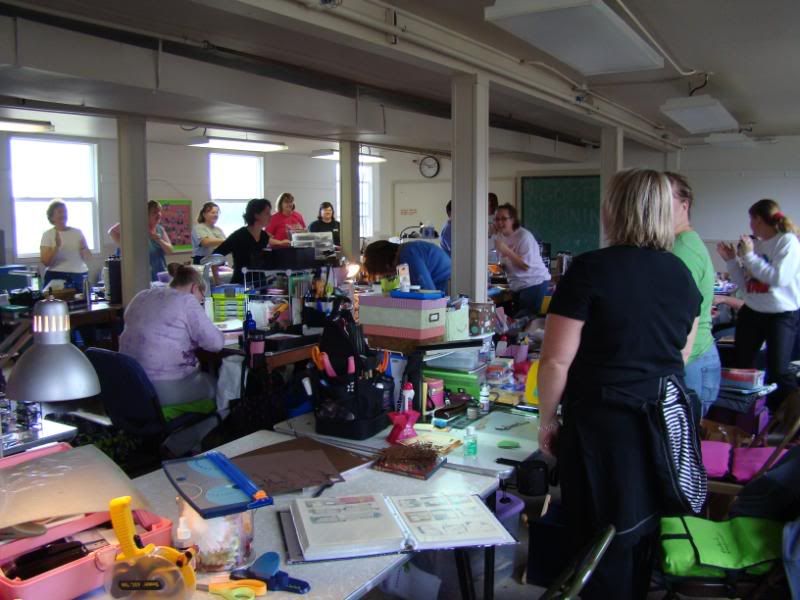 Dyona had the idea to surprise Lori with a party on Friday night. Her birthday is in a few days and she would be so busy entertaining us for the whole weekend, it was a nice treat! Last year on the November retreat, Lori had thrown Kim a party since it was her bday weekend, so Kim asked for everyone's attention, and put this sash on herm and asked if she remembered the crown she had given Kim to wear for her birthday party...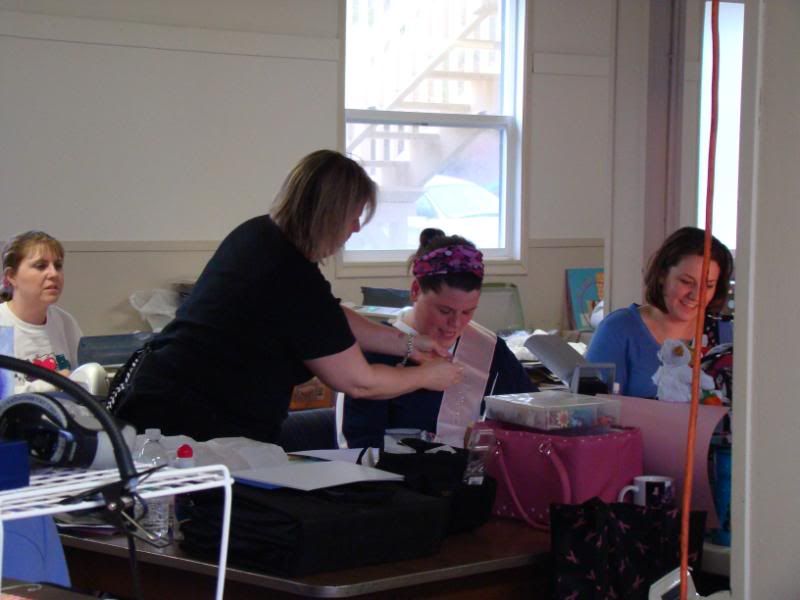 So Kim got out th crown and asked Lori to follow us all in the other room (for the SURPRISE PARTY!) She was saying "What is going on here???" LOL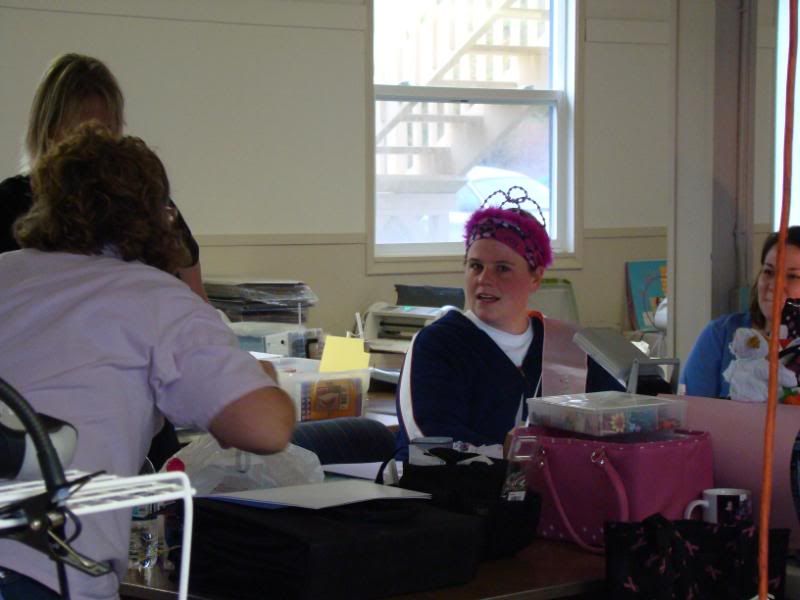 I ran ahead and took pics while she walked in.....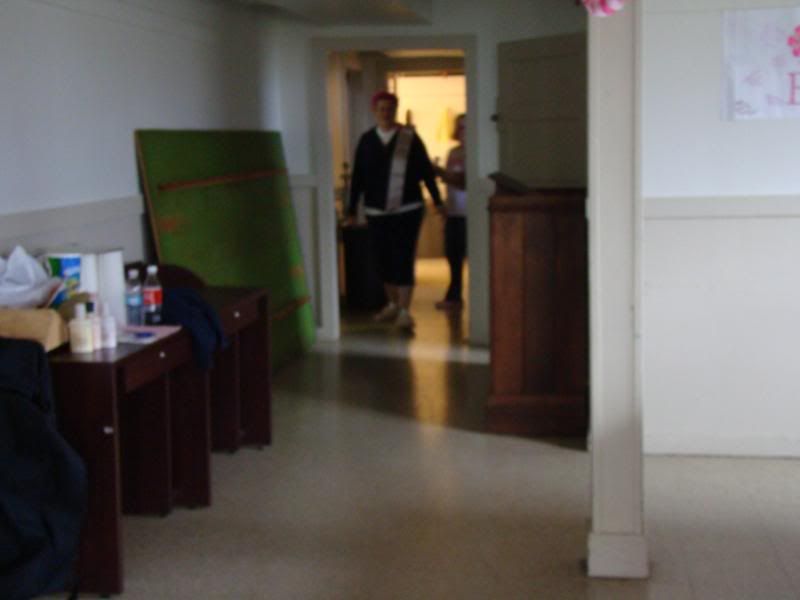 I made this sign and everyone had written a little bit on it for her.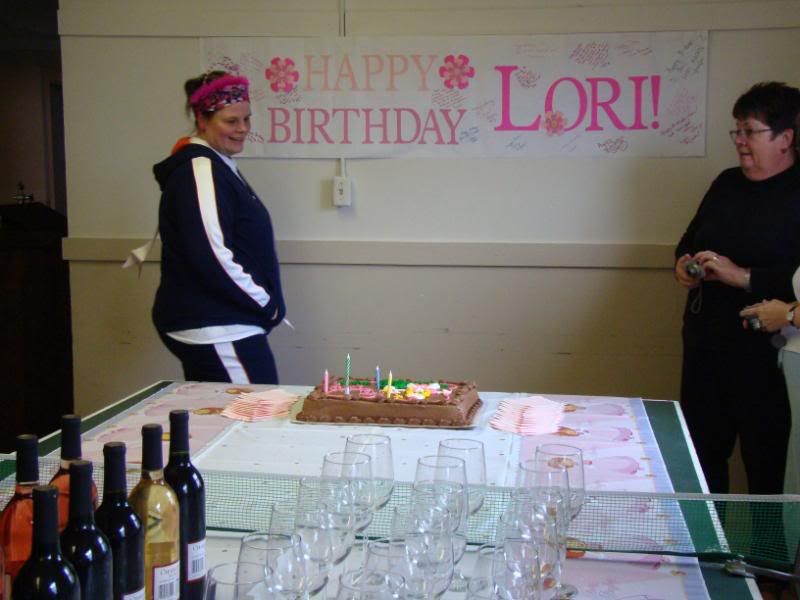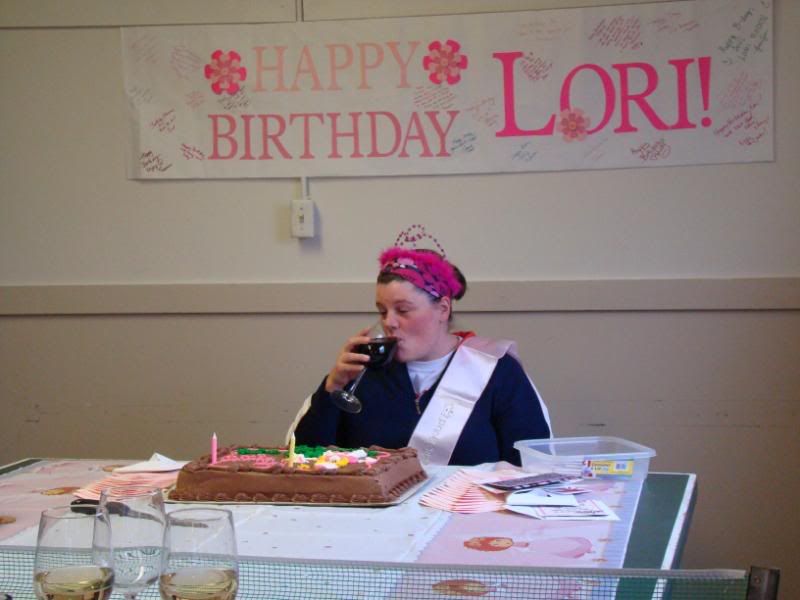 This is Gayle (Lori's mom) toasting Lori and her two Sister's-in-law Shelia and Jenny.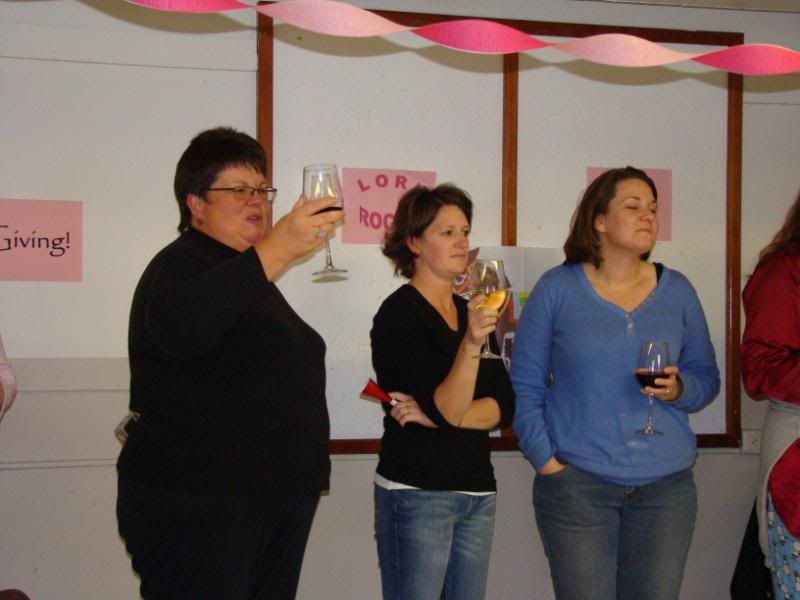 My crop space with wine :) SWEET!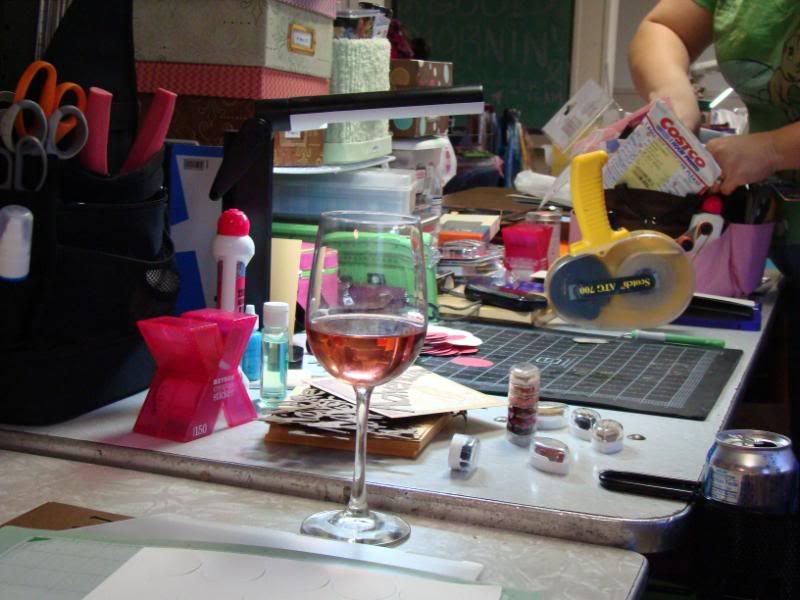 Did I mention the Jello shooters????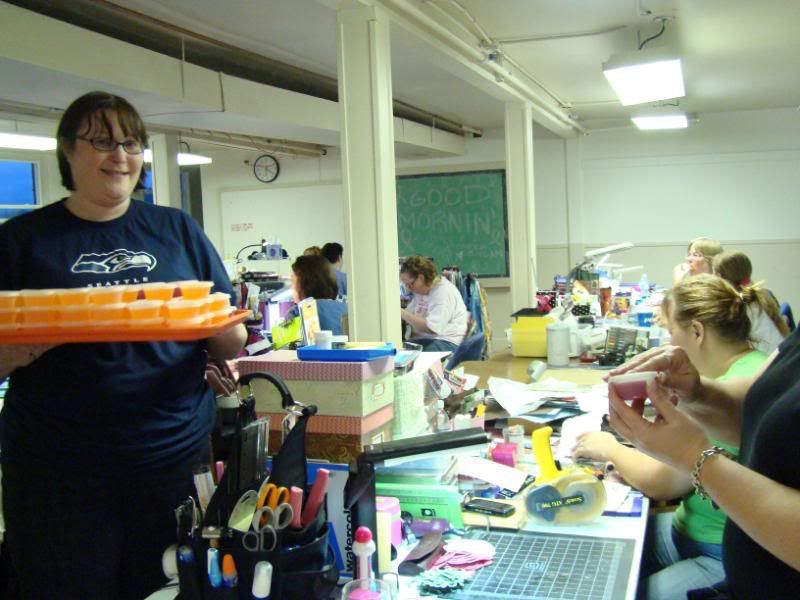 I had never had them before, and omigosh what fun! So Kim had a few issies with these LOL! I asked the gal handing them out to take our pics and she got the next shot PERFECTLY! Right ask Kim sucked it out of the cup, she coughed it right back otu again and we laughed SO HARD!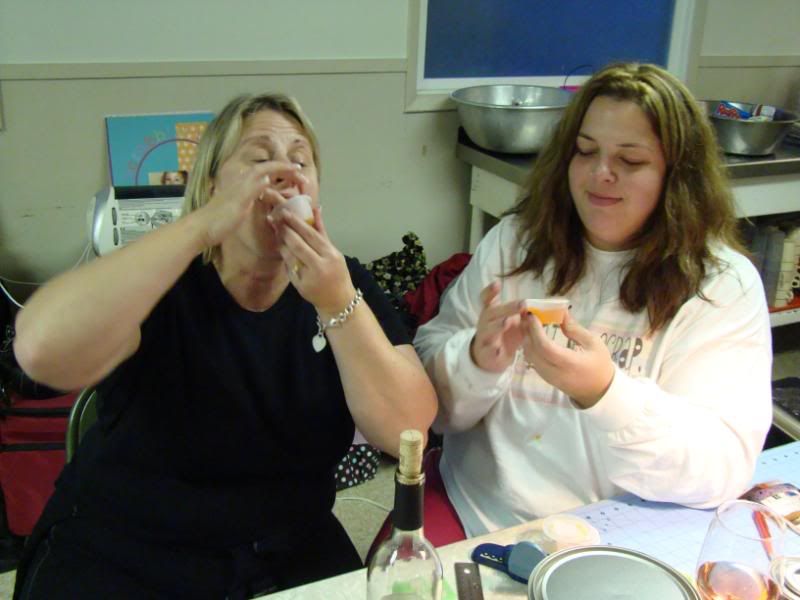 Could the timing have been more perfect???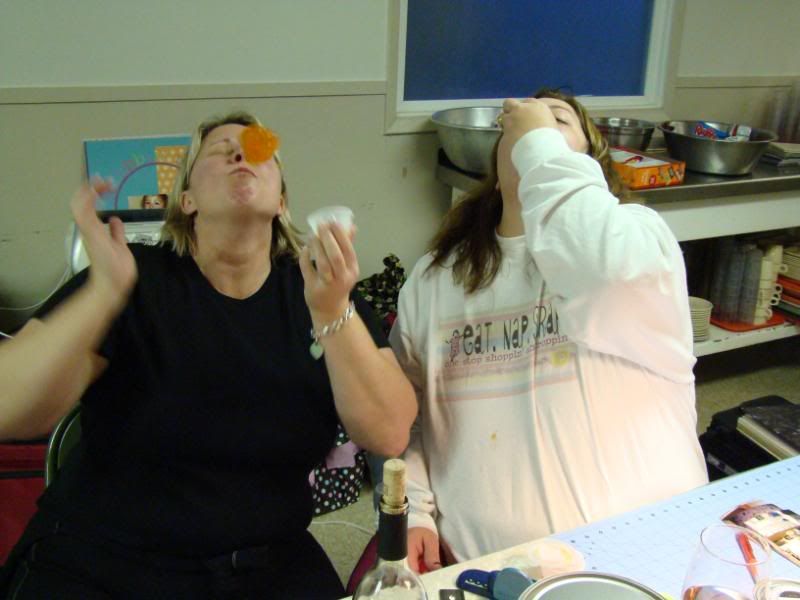 Lori, Gayle, and Peggy all joined us for a jello shot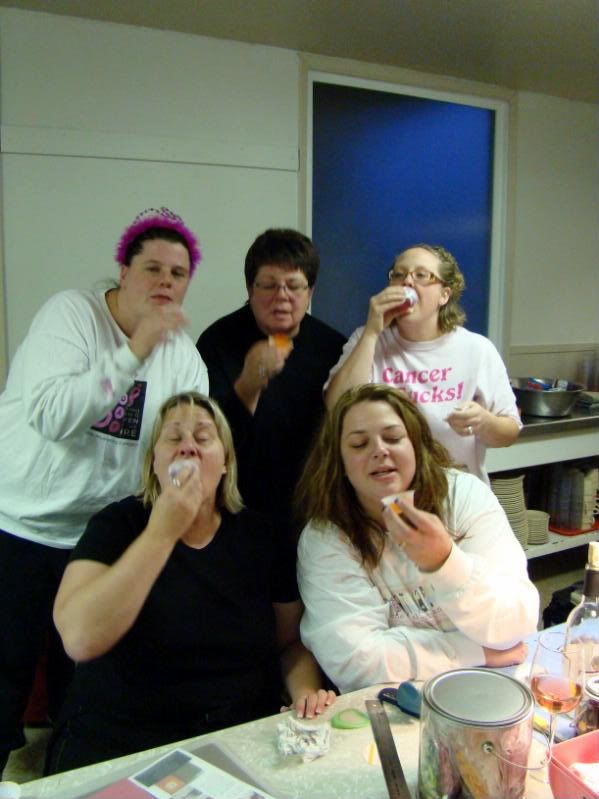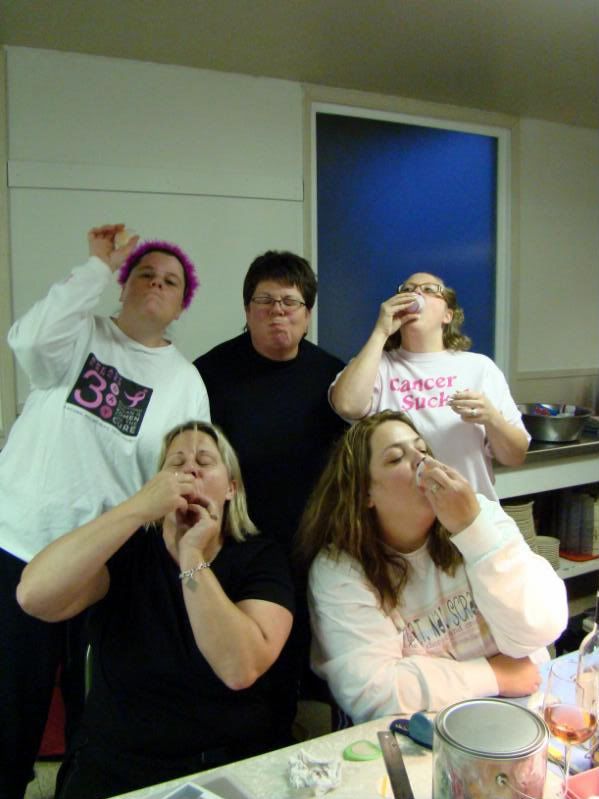 The view right outside the door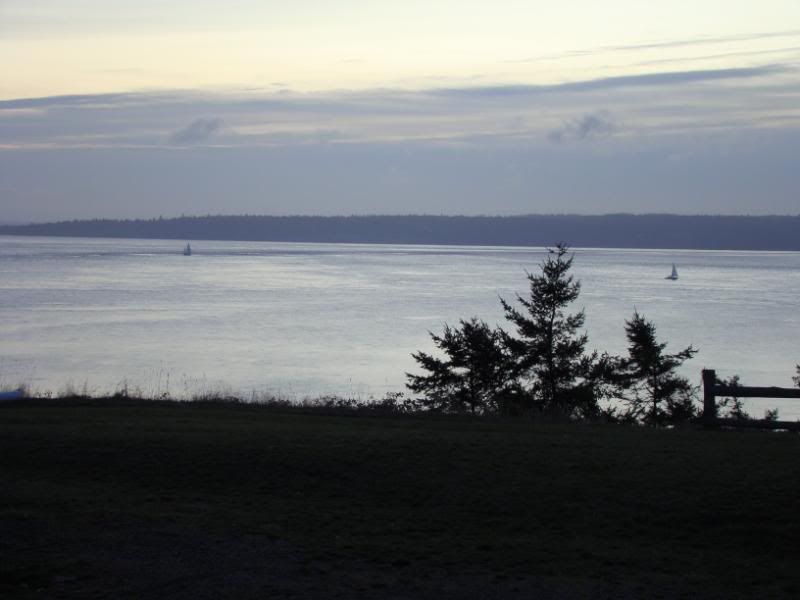 Then Lori made us these fabulous strawberry daquiris, they were so yummy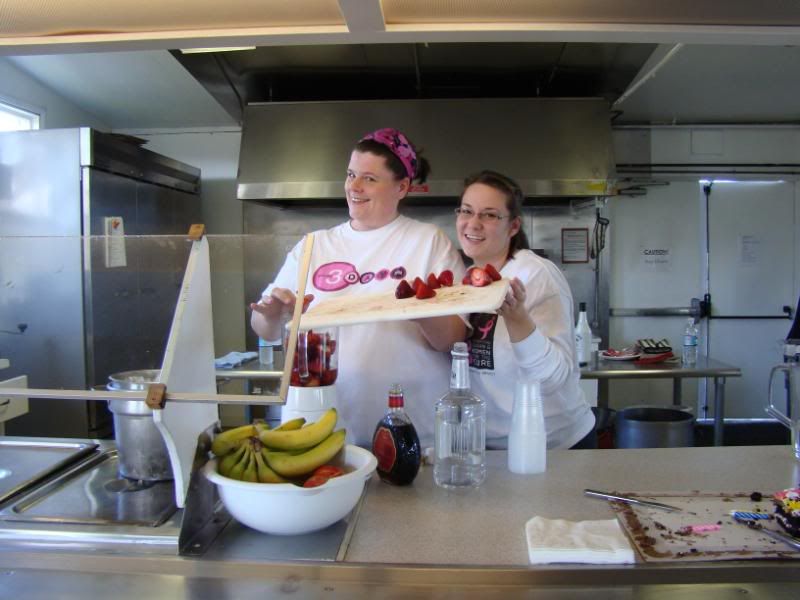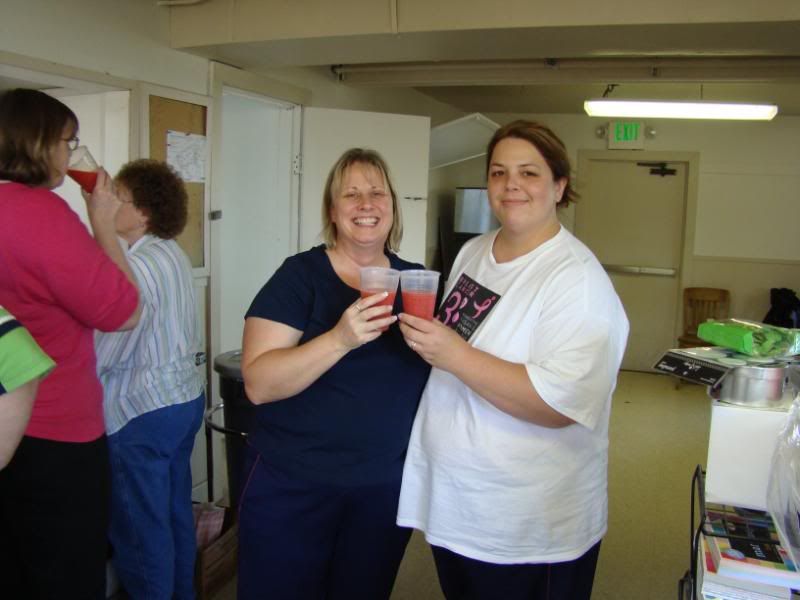 I was waiting for this dinner, potato bar is my favorite night!!!
So Saturday night was costume night, and the theme was Halloween or pink. I was Raggedy Anne, Kim was "BOOB" the builder, and Dyona was a blushing bride!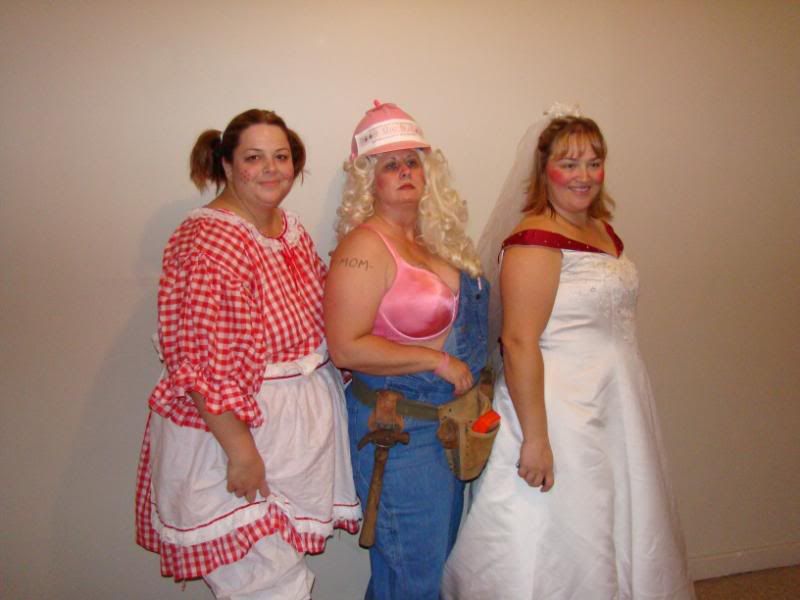 Lori and her mom Gayle were a pair of boobs, and had a song and dance for us!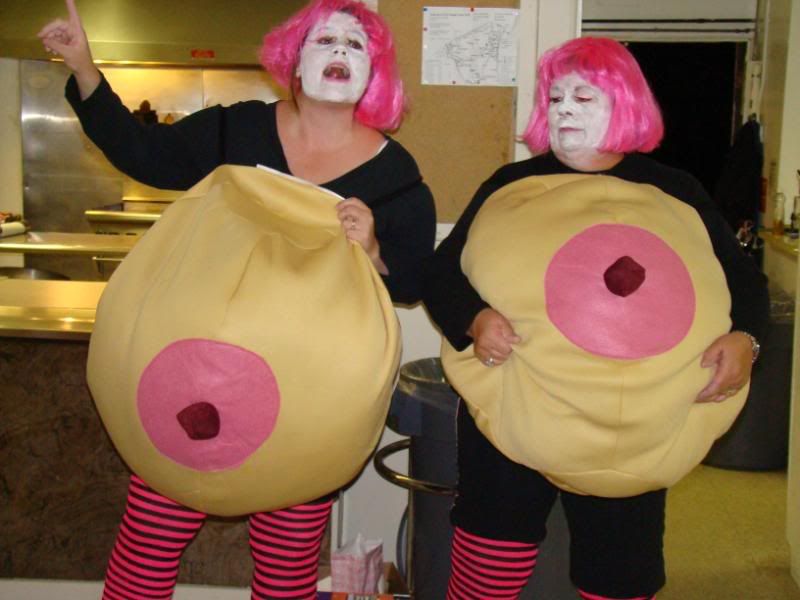 a group photo of all the ladies in costume!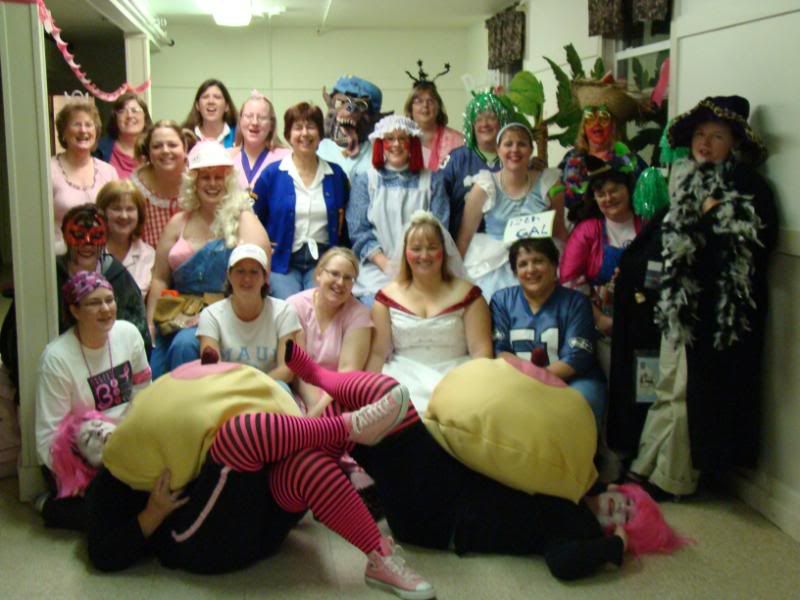 Me cropping, YAY!!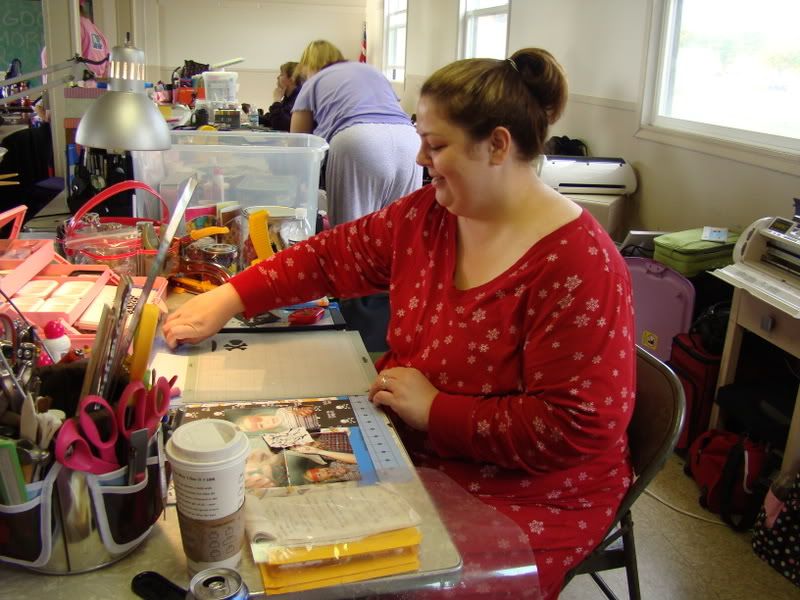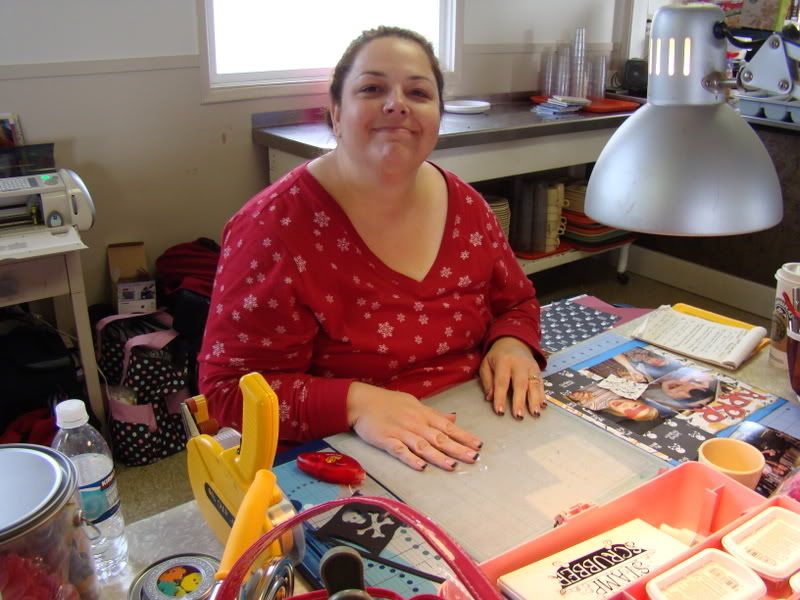 Packing up on Sunday we took a pic of all our stuff before putting it in my van. And this was just for the 3 of us!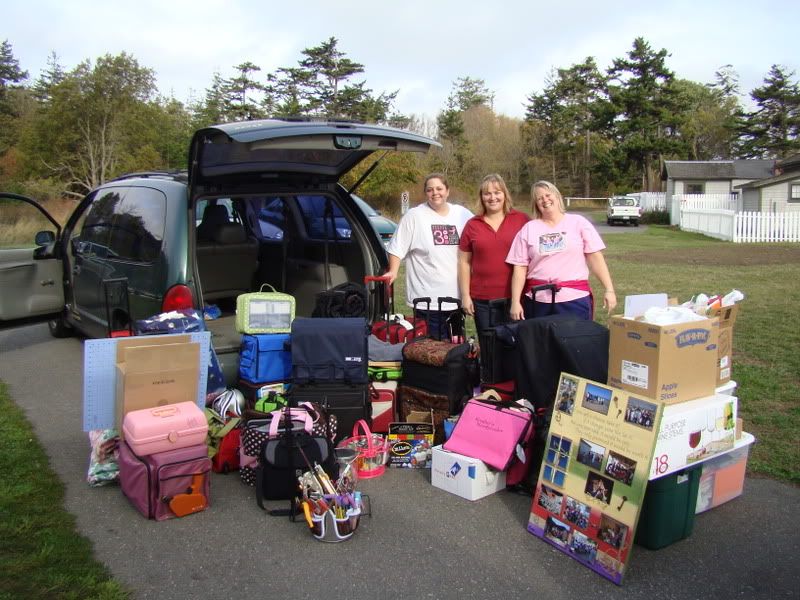 Whew, what a fun weekend!!!!!!!!!!!!!!!!!!