I love this clean and simple design. I like things chock full of ink, lace, trims and buttons, but this was refreshing and super easy to do, not cluttered with a bunch of stuff. Plus the papers are super busy, so I thought that they needed to take center stage.
This album is for sale in my Etsy Shop!
I used papers by Queen & Company, the Magic line, as well as yellow, red white and black card stock. There are only a few embellishments, since I wanted the papers to be the focus. The black base pages are 6 1/4" x 4 1/4" (there are 6) and all the layers are 4" x 6". Each page has a side pocket with an insert. I created this album in mind for smaller sized photos, like wallet, 3x4, 3x4, ect. You can most certainly use 4x6 photos, though most of the pretty papers will be completely covered up.
I tried something new and used Tyvek for the cover. It is a sturdy cloth that can't be easily torn and is very thin and flexible. The USPS makes mailers out of them, and it is also a construction material for buildings. It was white to begin with, but I used my black Staz-On ink to color it. It is slightly on the grey side and bot completely black, however it completes this project nicely.
The cover has a shaker embellishment from EK Success, a Spellbinders Die and some of the papers from the collection. The little date ticket is from the papers as well. There are a few of them scattered throughout. I left the spine and back cover free of decorations.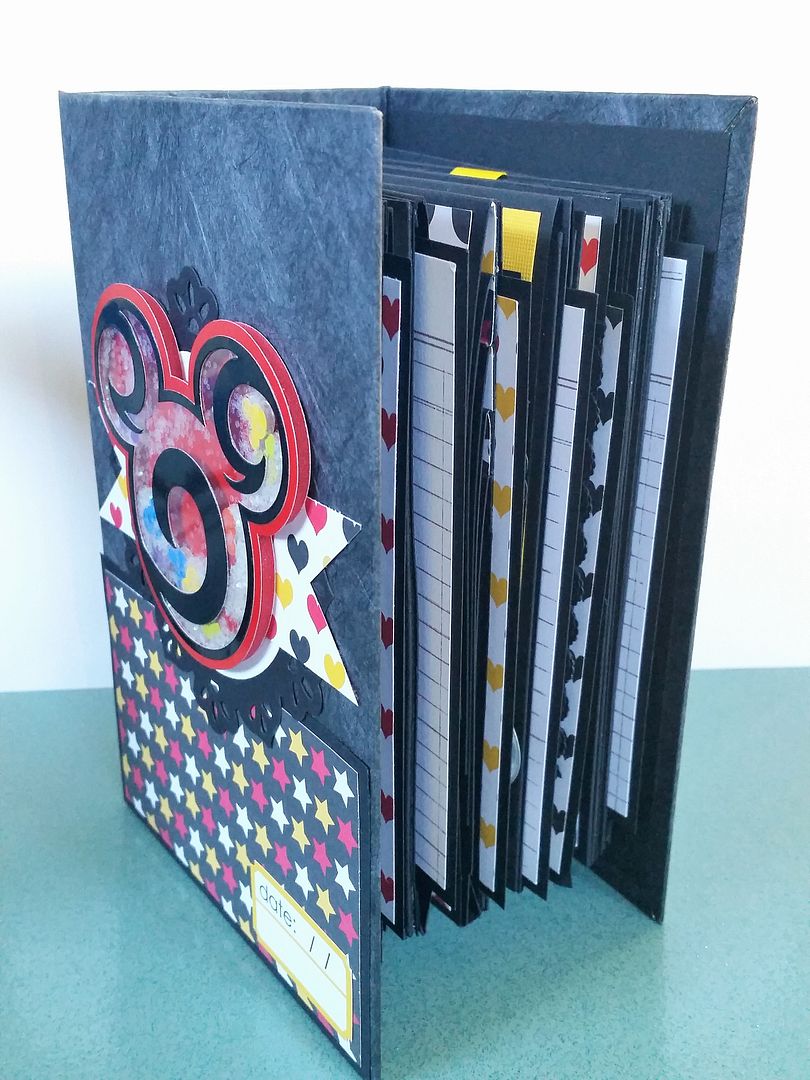 The first page is a simple pocket, with two inserts. For a lot of the inserts I used a ledger stamp for journaling. They can of course be used for photos as well.
This shows the insert for the side pocket in each page. They are all the same, with this heart paper on one side and the ledger stamp on the other. I alternated which side faces up in each pocket.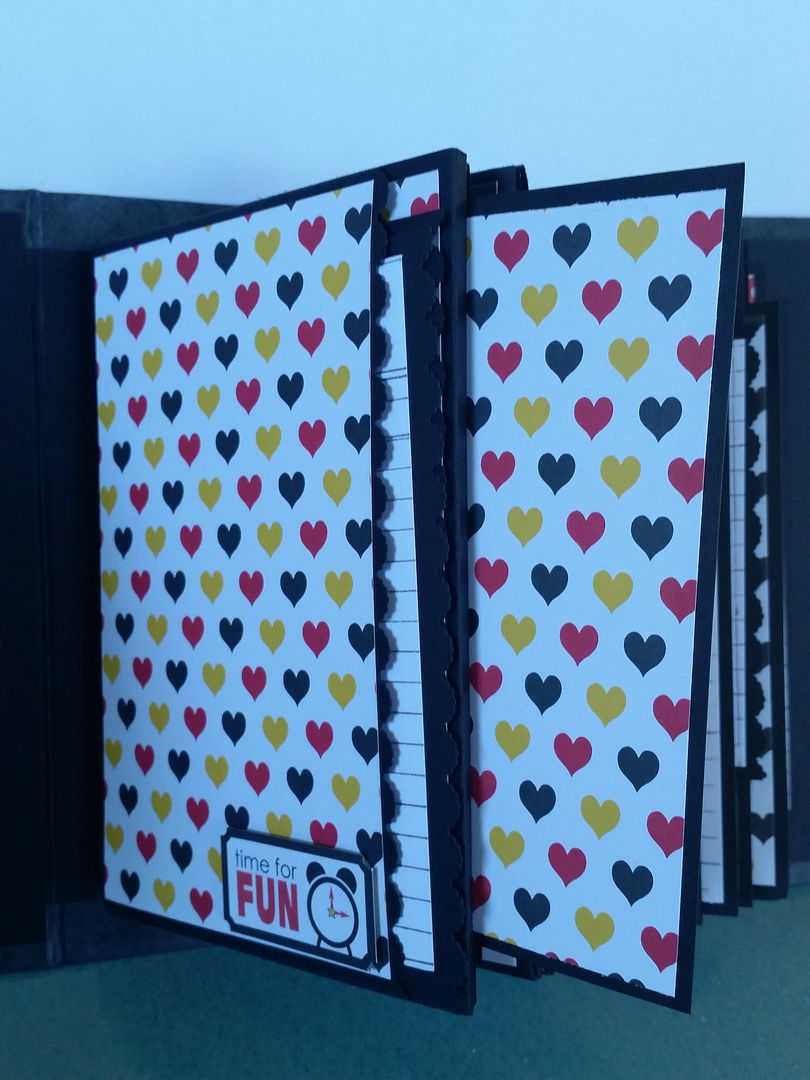 The left page has a metal embellishment from Creative Imaginations, there are 3 in this album.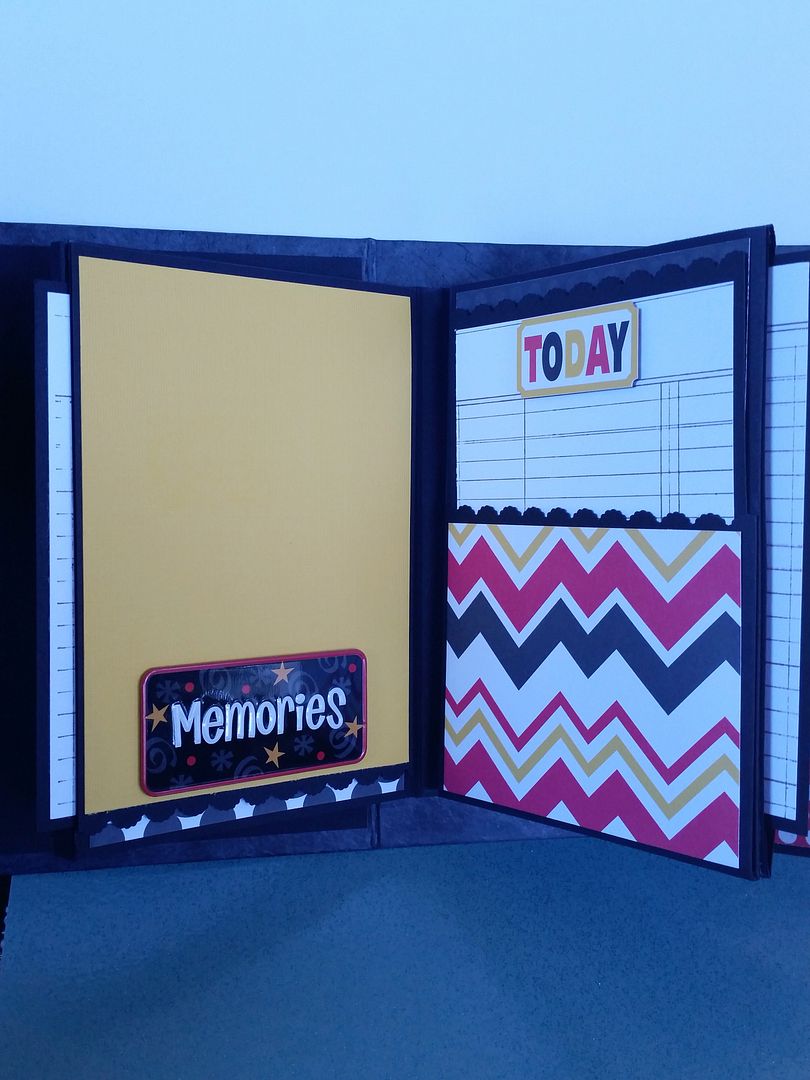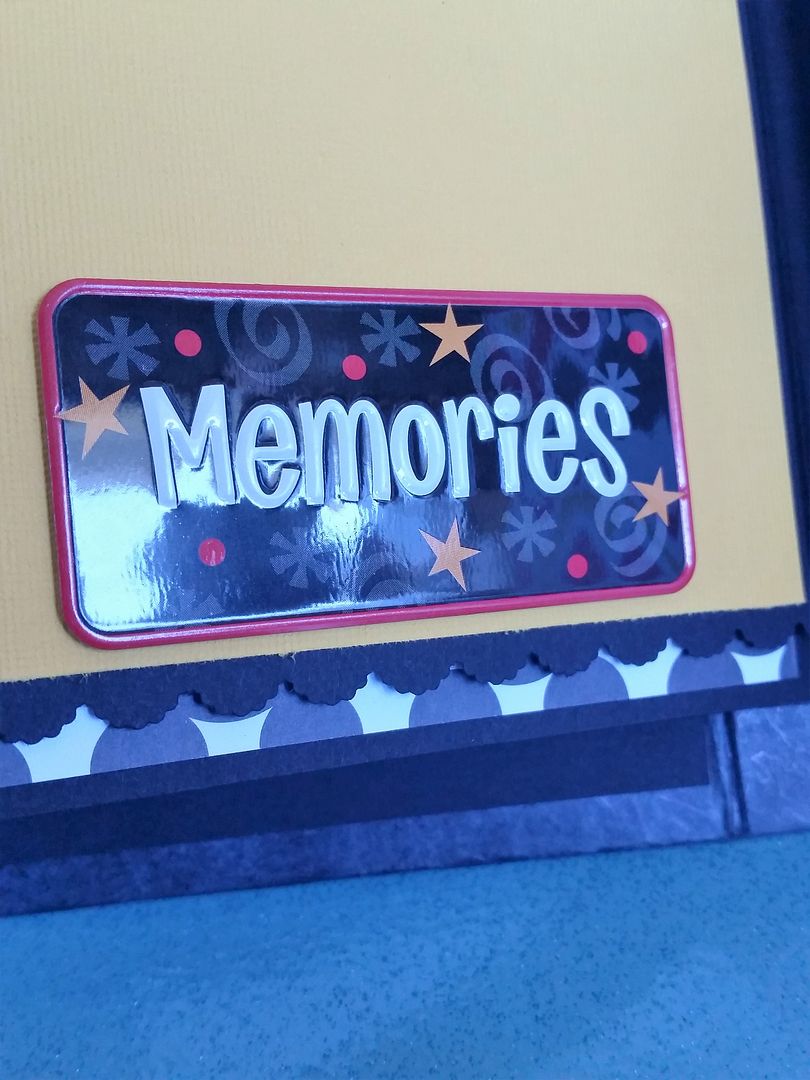 The page with the metal embellishment flips open to the top, and is held closed with a magnet.
The right page is a pocket and tag. It opens to the right, with 2 more panels inside.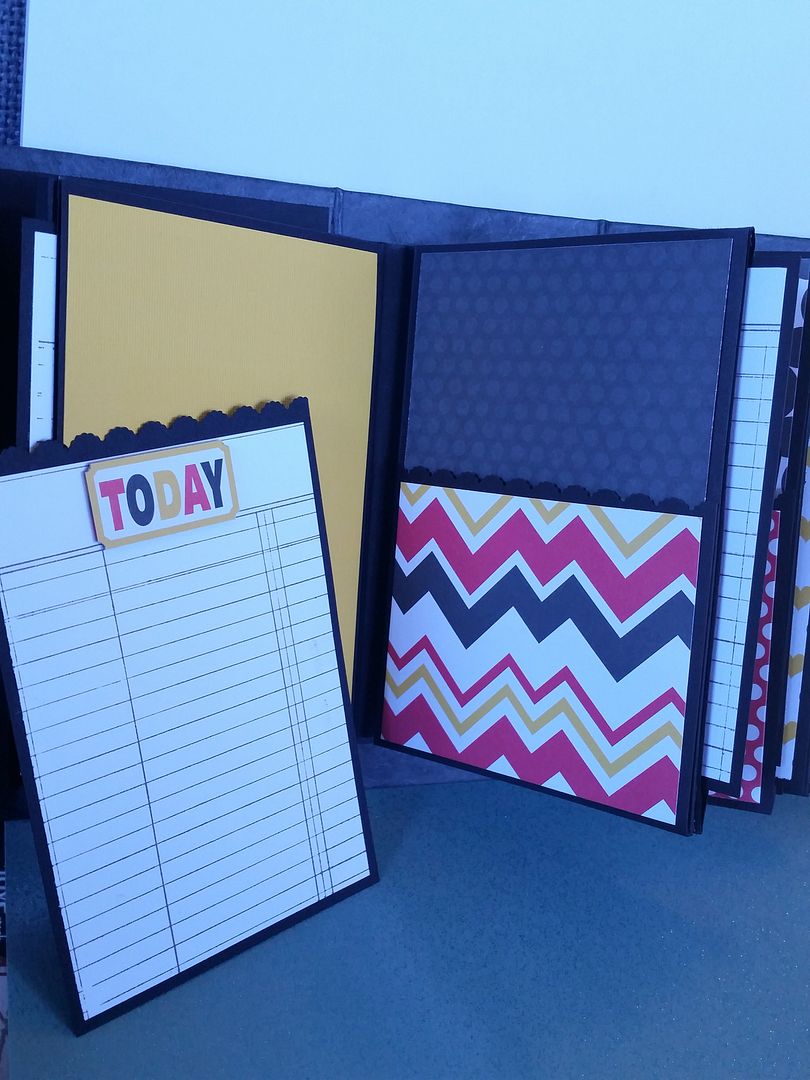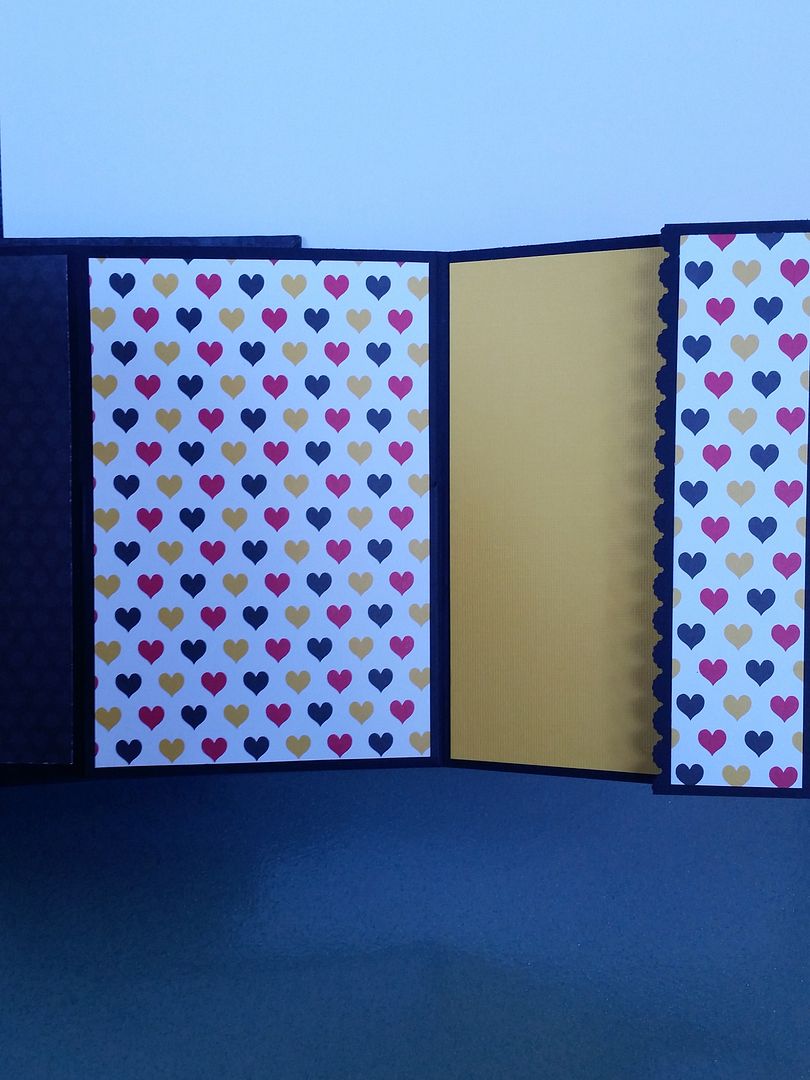 The left page has a flair button, also from Queen & Company. I mounted it on a piece of black paper, punched with a scallop shape. It is adhered only on the left, allowing for a photo to slide underneath. The pocket flap has two tags that come out, for journaling or pictures.
The right page has a flap closure on the bottom with magnet that flips to the bottom. Inside is a card stock water fall feature. I left the waterfall free of patterned paper, and they are sized to fit 4x4 pictures.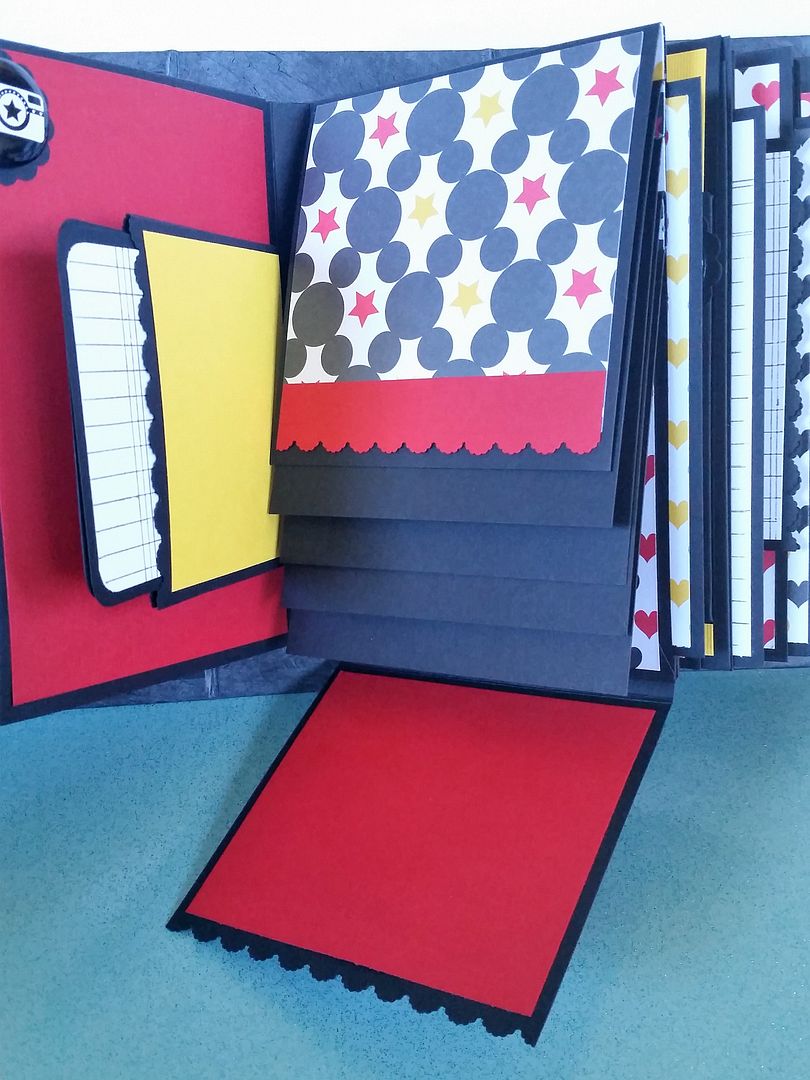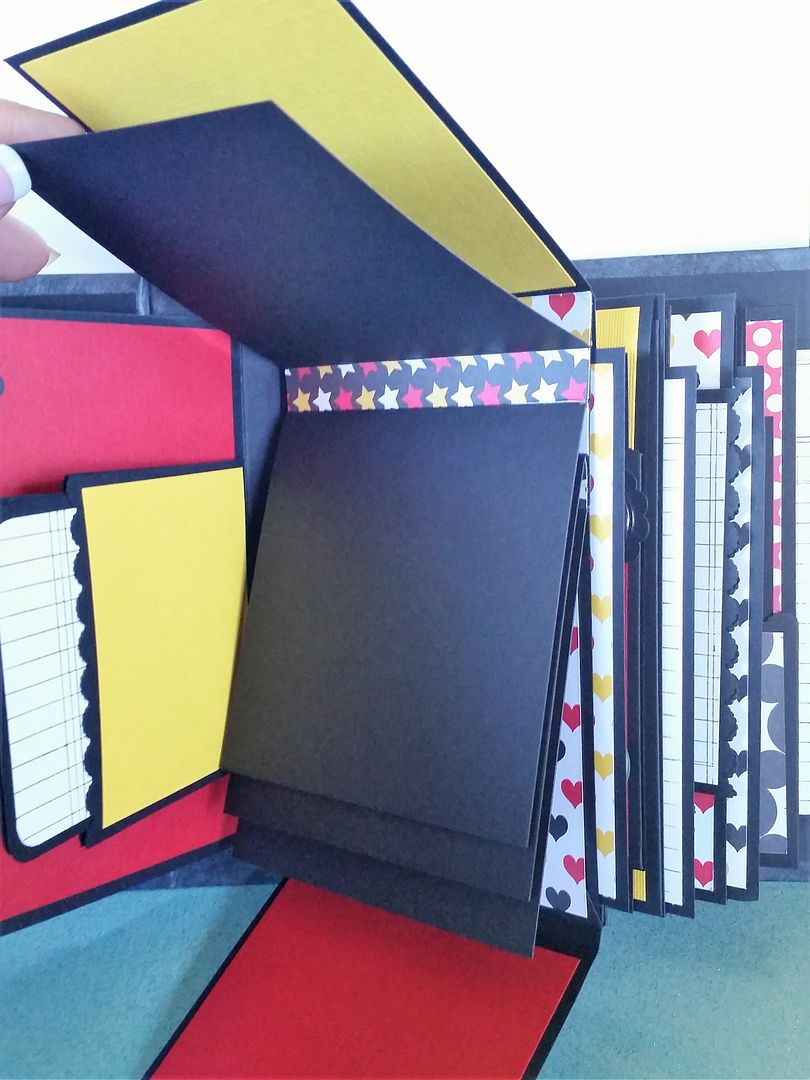 The left page has a corner pocket made with a Spellbinders die, and two journaling tags.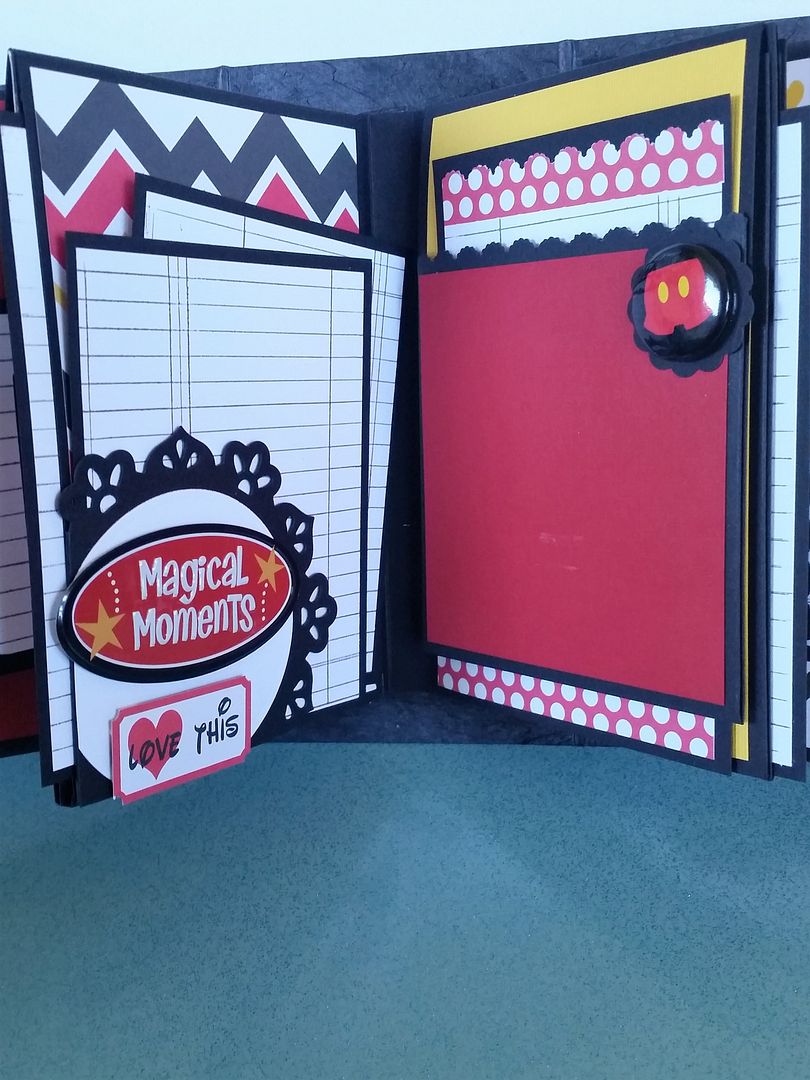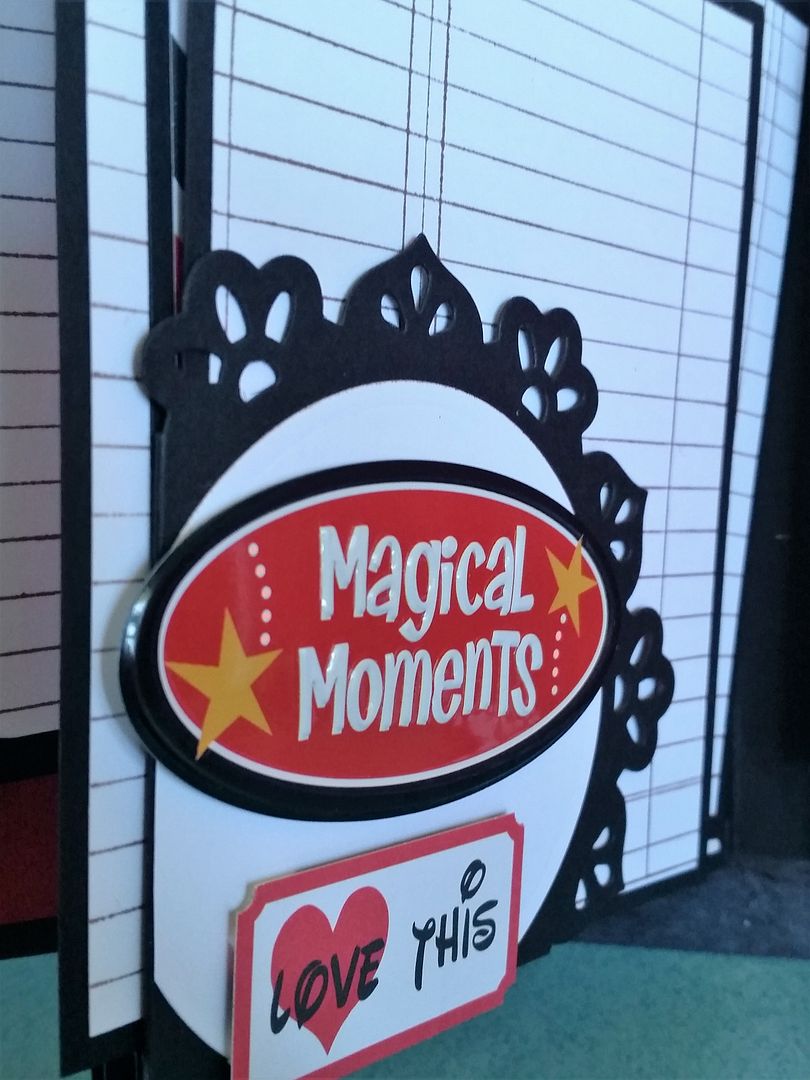 The right page has a pocket and tag on the front, also a flair button that is only adhered on the side. The pocket flips up and has a magnet closure.
There are a few flaps inside that can hold lots more photos.
The left page has a magnet closure, and two flaps that open to the left.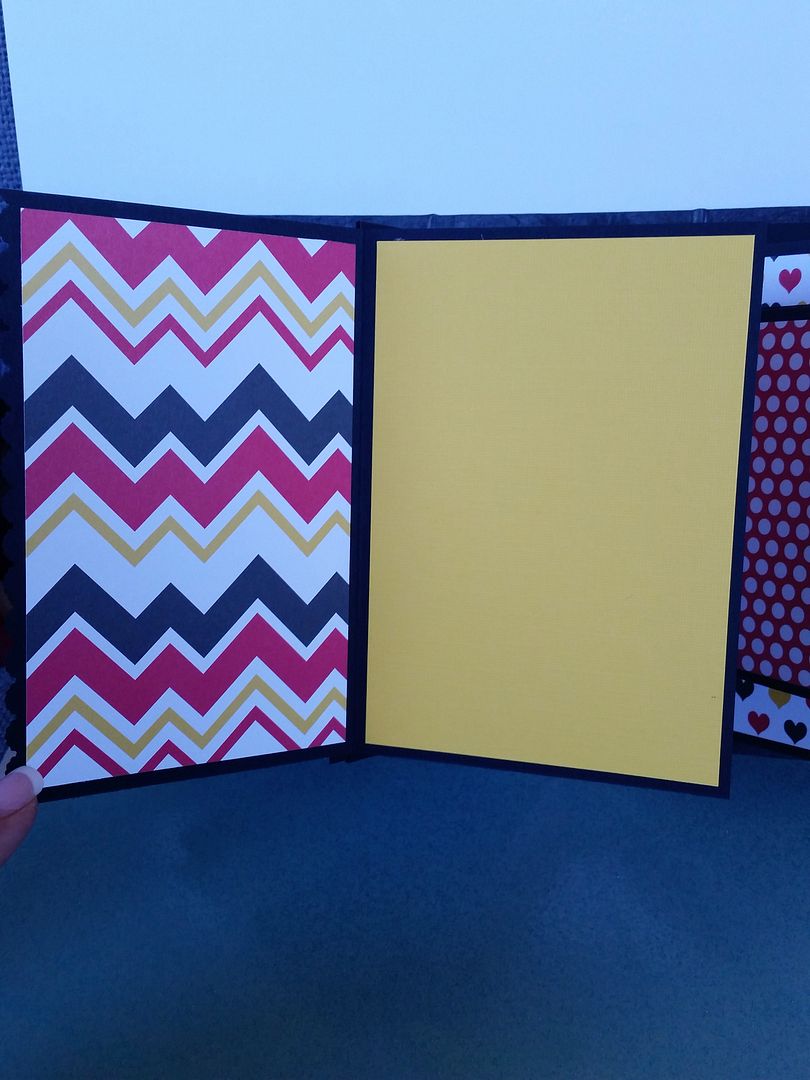 The right page has a pocket flap with journaling tags.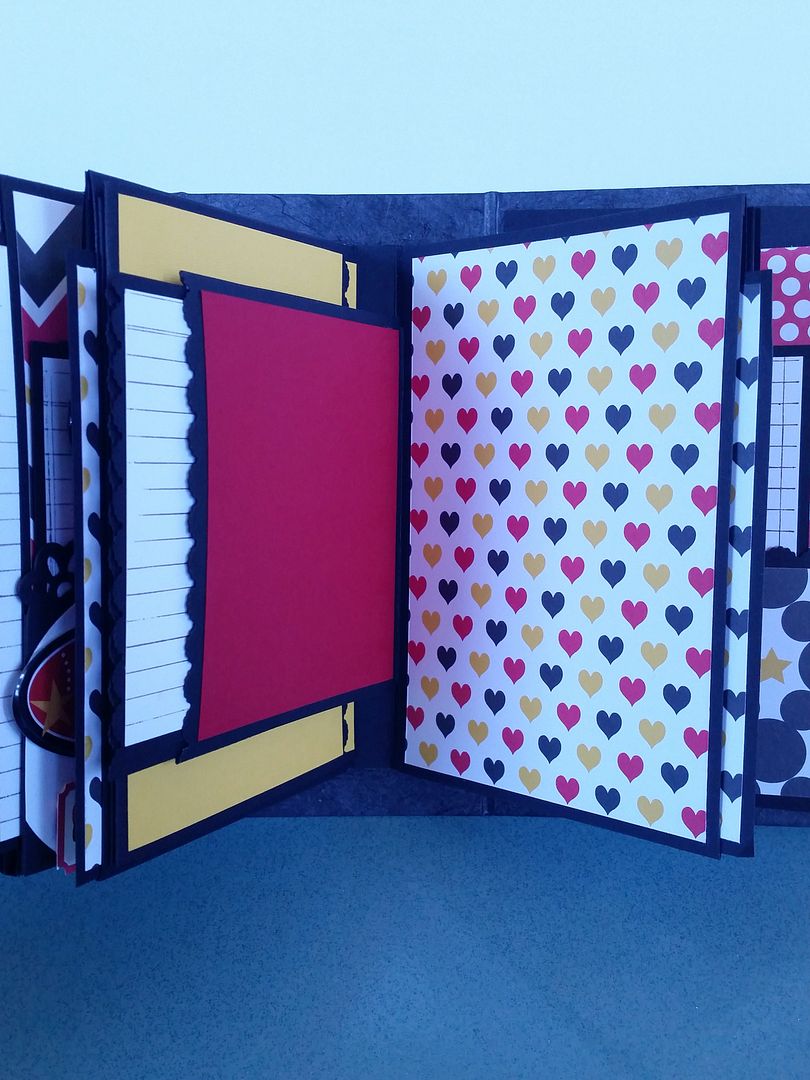 The left page here is a pocket with two cardstock tags.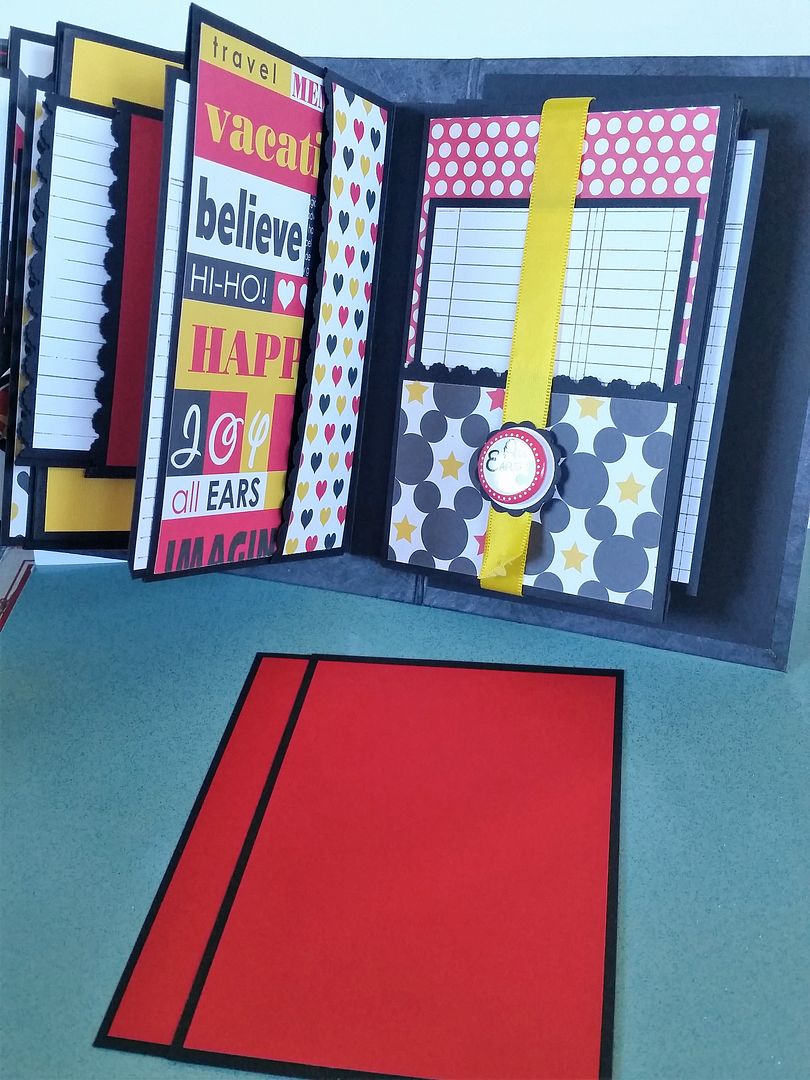 The right page is an accordion page, with a pocket and tag on the front. It is held closed with a magnet ribbon enclosure.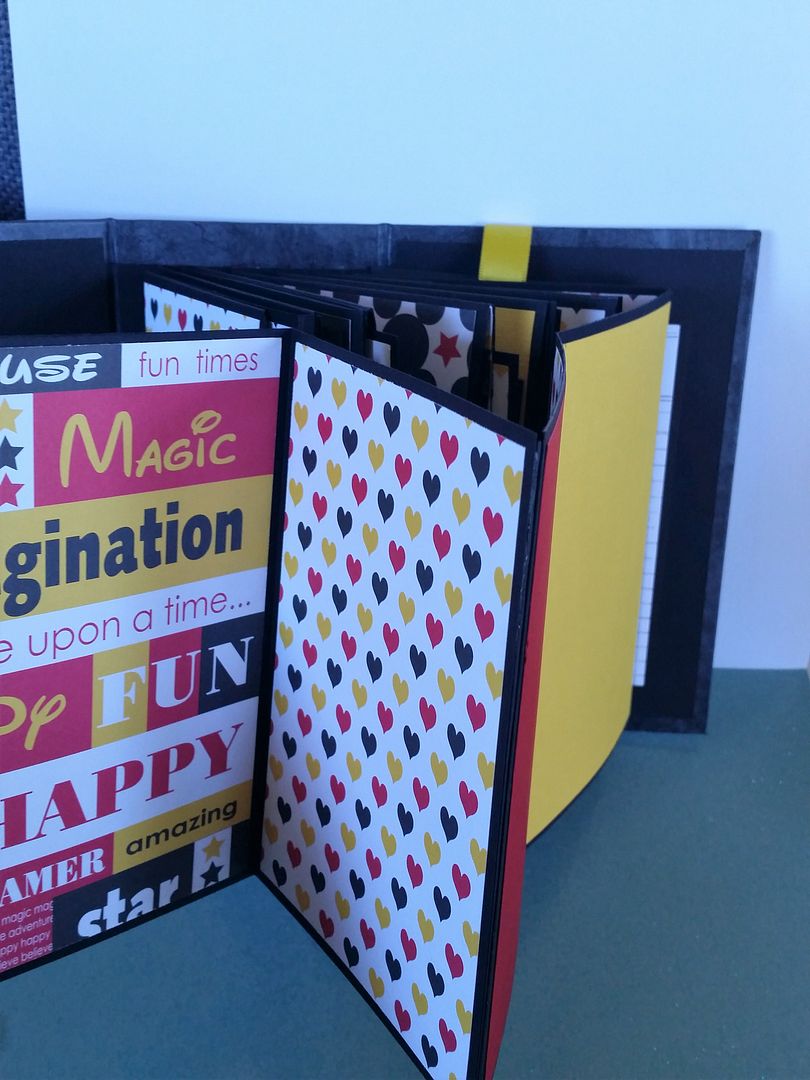 The last page has a double pocket. There are two tags in each pocket. I may just make it one of each because they fit pretty tightly and would be even tighter with photos.